News About the Ecology Center Move
Keep up-to-date about the Ecology Center's move to its new location.
It's time for meaningful chemical reform, CICA!
Have you heard yet about the introduction of The Chemicals in Commerce Act (CICA)? If so, you were probably sorely disappointed. The CICA, introduced on February 27th by Rep. Shimkus from Illinois, would have a devastating impact on chemical regulation as it rolls back some of the very few strengths in the existing Toxic Substance Control Act (TSCA). Public health advocates and concerned citizens have been working too hard to allow our current weak chemical regulations become even weaker.
According to Oregon Sen. Bruce Starr (R) and Nevada Sen Debbie Smith (D), sections of the bill "would essentially eliminate state policymakers' ability to regulate toxic chemicals at the state level by divesting all authority away from states and localities and placing this authority solely with the Administrator" of the Environmental Protection Agency (EPA). States have been a critical backstop to protect citizens when the federal government has failed to act. Preserving the ability for states to take action is crucial.
The CICA fails on many levels. It fails to protect people from existing harmful chemicals; it allows new chemicals to enter the market without adequate health and safety review; it allows the chemical industry to keep health and safety information secret from the public; and it fails to provide specific actions to protect those most vulnerable to chemicals hazards. Ultimately, this bill fails the most critical test of any chemicals reform bill – it fails to protect public health.
We deserve better. Our children deserve better. Take Action now!
Health professional, health affected, environmental and faith-based groups from across Michigan have called on leaders in the US House of Representatives to start over to craft a strong bill that would actually protect our health. You can see the letter here.
You can help us by sending an email to your Representative, lets make sure that Congress knows we won't stand for rollbacks to health protections. We are calling for real reform.
Video documents LEED construction progress
Reporting from the new office . . . .
After nearly 20 years on North Division St., the Ecology Center moved this week into new offices at 339 E. Liberty in Ann Arbor.
As you can see in the photo, the new location offers a light-filled, highly functional space designed to enhance the collaborative efforts that the Ecology Center is known for.
Moving with sustainability in mind
After 18 years in one location, staff members and volunteers of the Ecology Center have accumulated tons of paper, books, electronic gear, valuable archival material and memorabilia from more than 40 years of leadership in the environmental movement.
Now that a move to a new facility is imminent, likely by the end of the month, a team of staff members has been working to make sure the organization walks the walk, maintaining our founders' commitment to reduce, reuse and recycle.
"Our partners at Recycle Ann Arbor have supplied us with extra bins for the last few weeks, and we've been purging a lot of unneeded paper records," according to Ken Kozora, events manager of the Ecology Center and a member of the move team. "That's over and above our regular efforts to recycle around the office, of course."
In addition, a minivan full of outdated electronic equipment went to e-waste recycling event at the University of Michigan in May, and several loads of useful office supplies, furniture and equipment have been delivered to the Reuse Center operated by Recycle Ann Arbor. Some other materials that might be more valuable have been posted on online auction sites to bring in a little revenue for the Ecology Center, Kozora said.
Given its leadership role in the environmental movement, the Ecology Center's records have an important historical significance, so several boxes of archival material have been delivered to the U-M's Bentley Historical Library, which is committed to documenting the history of the state, where they will be archived and preserved.
Over the years, the Ecology Center has accumulated a valuable and important collection of books relating to the environment and the ecology movement, and they will be moved to the new office so they'll continue to be available to staff and volunteers.
In addition, the Ecology Center has an impressive amount of memorabilia documenting the group's history, including signs, plaques, citations, art works, posters and ephemera. The move team is working to select a number of those pieces that will be used to decorate the new office, "so that space will reflect our history, too," Kozora said.
"And since we're only moving a few blocks, we've consciously reduced the amount of foam and other material used in the packing process to help reduce waste," he said. "It's taken a little more planning and effort to execute the moving process with sustainability in mind, but Ecology Center plans on being around another 40 years and we want to proceed in a manner that reflects our belief and vision for the future."
'The Ecology Center on the Move': video
These videos, produced by Erik Steven Heitz and Christy Zwicke, describe the process under way to create new offices for the Ecology Center and the unique reuse of demolition materials to produce furniture.
AnnArbor.com reports on the Ecology Center's planned move
AnnArbor.com covered the Ecology Center's planned move in their April 23, 2011 edition.
Here's a preview:
Ann Arbor Ecology Center moving to new home in downtown Ann Arbor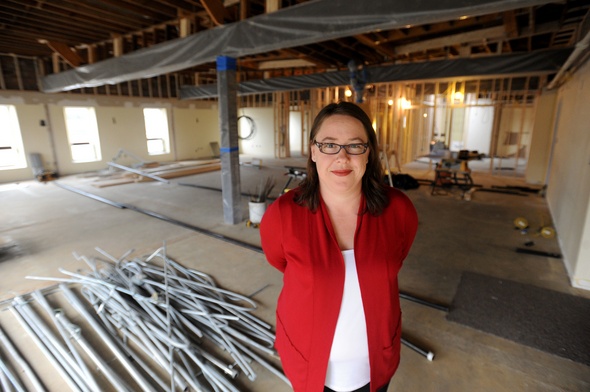 Angela J. Cesere | AnnArbor.com
The Ecology Center, a 40-year-old nonprofit environmental research and advocacy organization, is moving its headquarters to a new location in downtown Ann Arbor.
The center will almost double its current office area when it moves into 5,000 square feet of renovated space on the third-floor of 339 E. Liberty St., known as the HandiCraft Building, in June.
LEED features of the Ecology Center's new offices
Overall Project Features
Advance heating and cooling controls resulting in 20-30% reduction in energy costs;
100% energy star equipment and greater then 35% reduction of lighting power demand;
Extensive reuse of materials and fixtures from site demolition;
Use of No-VOC coatings and low emitting, non-toxic materials for all interior finishes;
On-site education program to educate the public;
Use of materials with high recycled content and locally sourced.
Over 50 percent of onsite-generated construction waste diverted from landfills.
Water savings using low-flow fixtures.
Recycled, Salvaged, or Re-used
Over 1,973 cubic feet of material has been diverted from landfills, including:
Reuse of 100% (5,075 Square feet) of existing carpet;
Recycling of 761 cubic feet of ferrous and non-ferrous metals;
Reuse or recycling of nearly two miles (9,671 feet) of data cable;
Onsite reuse of existing doors and trim;
Reuse of 300 cubic feet of drop ceiling tile & 440 cubic feet of fiberglass batts for insulation.
Non-Toxics Materials
Persistent Bioacculamative Toxin(PBT) free materials for interior finishes; piping, conduit and electrical boxes; electrical and data cabling, including:
Lead-free, halogen-free electrical and data wiring;
Metal piping, conduit and electrical boxes;
PVC free flooring and interior finishes.
Elimination of halogenated flame retardants and phthalate plasticizers from interior finish products, including:
Halogen-free carpeting and resilient flooring.
Recovered Demolition Materials turned into Furniture
Use of hundreds of recovered 2X4 's (framing lumber) and sprinkle pipe to construct desk systems for the new office.
Deconstruction - Lumber recovered and de-nailed during demolition;
Applied learning - Eastern Michigan University (EMU) furniture class participated in design and construction of furniture units;
Use of non-toxic, healthy finishes.
Ecology Center moving to LEED-renovated space in downtown Ann Arbor
After more than a decade on North Division, the Ecology Center will be moving its headquarters this summer into a LEED-renovated space on the third-floor of 339 E. Liberty St.
The Ecology Center is leasing 5,000 square feet of office space in the building at the northwest corner of Liberty and Division.
"This new space will allow us to accommodate our significant growth, both in terms of our activities and our staffing, over the years, while staying true to our roots, our principles and our mission," according to Ecology Center director Michael Garfield.
The Ecology Center is working with architects and contractors to achieve a LEED rating for commercial-interiors for their portion of the building. (The acronym stands for Leadership in Energy and Environmental Design.) LEED ratings are becoming more standard for new construction but are considerably less common for renovations to commercial interiors.
"With the help of some truly creative people, we are creating a light-filled, highly functional space that will support the collaborative efforts that the Ecology Center is known for, the kind of place that feels good to work in," Garfield said.
The architect on the project is Wayne Appleyard of Sunstructures Architects in Ann Arbor, who has more than 30 years of experience of designing a wide variety of projects that feature renewable energy and sustainable architecture. Connie Rizzolo Brown of Rizzolo Brown Studio is the lead designer. Both Appleyard and Rizzolo Brown have earned the LEED AP credential reflecting their experience and expertise in "green building" design.
The new office configuration will provide a combination of individual offices and a large, naturally lit open-office space designed to provide a collaborative and flexible workplace. Plans include additional energy conservation measures and advanced HVAC controls, along with an extensive use of non-toxic, "green" products, including halogen-free electrical and data wiring; zero-VOC (volatile organic compound) paints; and low-VOC, PVC-free, high-recycled-content carpets.
In one example of the environmental sustainability that is part of the renovation, hundreds of wooden studs and ceiling joists and sprinkler pipe taken out of the existing space are being fabricated into unique pieces of furniture by students in a design class at Eastern Michigan University.
The Ecology Center also worked with the building's landlord to get the entire building accepted into the "Downtown Energy Savings Grant Program" administered by the Ann Arbor Downtown Development Authority. The building is receiving an energy audit to provide the owner with information on measures that could reduce energy costs.
"Our overall goal is to create an environment that is both healthy and productive, that is less costly to operate and maintain, and that has a reduced environmental footprint," according to Appleyard.
The Ecology Center has been located at 117 N. Division in Ann Arbor since 1996, occupying offices on four levels of a house built in 1910. When it was founded in 1970, following an environmental teach-in at the University of Michigan that led to the first Earth Day, the Ecology Center had offices in several storefronts in the Kerrytown area.
"We're happy to have such a well-known and well-respected organization as a tenant," according to attorney Daniel J. Cramer, the building's owner. "This corner really is a landmark location, and the Ecology Center is a landmark group with a long history of engagement and environmental stewardship in Michigan."