For Michigan to reach its Healthy Climate Plan goals and to remain the nation's automotive leader, a speedy transition to EVs is critical for our future.
We are advocating that 100% of new passenger vehicle sales are all-electric by 2030.  For this to be possible, a comprehensive, equitable EV plan must be developed to ensure success.
The Path to Michigan's EV Future
As the Motor City state, Michigan must nationally lead the electrification of transportation, or else we will lose out to other states and countries. To do this, Michigan needs to spearhead all aspects of the transition–research & development, production, and sales. Unfortunately, Michigan recently ranked 29th on EV-friendly policies in the United States. We can do better, and we must in order to attract the EV expertise and industry necessary to maintain Michigan's auto-leadership and remain competitive.  
The transition to EV isn't only about Michigan's economy. It's crucial for the health of our state. As a state with high asthma rates, we can reduce air pollution by electrifying cars and trucks.
Vehicle electrification is a clear step toward combating the climate crisis. The transportation sector is the leading source of greenhouse gas emissions, with 58% coming from passenger vehicles and light-duty trucks. 
The bottom line: accelerating the EV transition combined with more robust pollution control standards will reduce air pollution and help tackle the climate crisis. Adopting a tangible goal to transition to 100% EV sales and developing a practical, comprehensive plan for getting there are vital first steps toward Michigan's future EV leadership.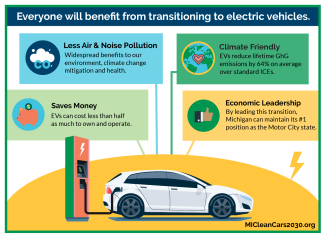 Everyone will benefit from transitioning to electric vehicles.
EVs are good for consumers
EVs are significantly cheaper to fuel and maintain than their gasoline counterparts.  The cost of electricity, for example, is much less volatile and at least half the cost of gas. With less moving parts, they are also cheaper to maintain.  Most people are able to charge at home without having to go to a gas station. And did we mention that they are quiet and emit no emissions?  
For our health 
As mentioned above, EVs create less noise and air pollution, which means they are healthier for everyone. Air pollution from gasoline-powered vehicles includes a range of pollutants, including nitrogen oxides and particulate matter. These pollutants cause increased risk of heart attack, stroke, and cancer while worsening diseases like asthma, COPD, and allergies.  For the average commuter, 1 hr per day spent in traffic equates to passively smoking 180 cigarettes per year.  EVs also eliminate the need for underground storage tanks that poison our groundwater, as well as fuel spills that foul our streams and lakes. ​​ 
For our environment
The Great Lakes are warming faster than the oceans producing toxic algae blooms that can kill Michigan's fish, mammals, and birds and give rise to human illness. Climate-driven increases in extreme weather events and rapid temperature changes have left Michigan homes, roads, waters, crops, and shorelines subject to infrastructure failure, property loss, beach closures, fishing restrictions, and disease. Adaptation is imperative, and given that the transportation sector is responsible for more than 27% of Michigan's GhG emissions, accelerating the transition to electrification can be on the frontline of Michigan's effort to tackle the climate crisis.  According to a recent University of Michigan study, EV's reduce lifetime GHG emissions by 64% on average over standard ICE's.
For our economy
Auto manufacturing is the number one economic sector in Michigan, surpassing the next seven sectors combined. If Michigan intends to maintain its auto manufacturing status and legacy,, we must continue to lead in electric vehicle manufacturing. Despite having 18% of U.S. auto manufacturing jobs and being #1 in electric transportation jobs per capita, other states are quickly gaining ground. Maintaining its #1 position will require more than relying on the state's past auto leadership.
MI Clean Cars 2030 is a campaign of the Ecology Center & the Michigan Electric Vehicle Alliance (MEVA).