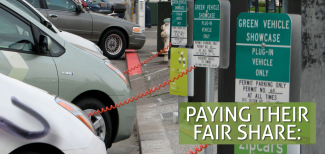 EV Report: Paying Their Fair Share
The Problem with Michigan's EV Road Funding Fees and Potential Solutions
Michigan's 2015 transportation funding legislation sought to address the state's road funding woes by raising fuel taxes, vehicle registration fees, and making transfers from the general fund. For plug-in electric vehicle drivers, the law also introduced new annual surcharges on registration fees at $30 for plug-in hybrid electric vehicles (PHEVs) and $100 for all-electric EVs. An additional fee is charged to these drivers based on an escalating formula tied to each increase of one cent in the state gas tax above its original $0.19 level. As of 2017, this means that PHEV drivers pay an additional fee of $47.50 and EV drivers pay an additional $135. When combined with the value based (ad valorem) fee that every owner pays when registering their vehicles, plug-in vehicle drivers are now paying between $300 and $390 in up-front fees.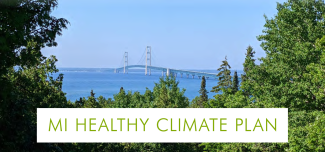 The Michigan Healthy Climate Plan
After a year of Workgroup and Council meetings, listening sessions, and stakeholder convenings, Michigan's Governor Whitmer and the Department of Environment, Great Lakes and Energy (EGLE) released the MI Healthy Climate Plan in early 2022. The plan contains recommendations to ensure a greener, healthier Michigan, and is a bold step towards a carbon-neutral future. 
The MI Healthy Climate Plan:
makes much-needed provisions for an earlier phase-out of coal and a swifter statewide transition to clean energy,
aims to generate 60% of Michigan's energy from renewable sources and eliminate the use of coal by 2030,
seeks to develop the grid and charging infrastructure to support 2 million electric vehicles by 2030,
calls for a 15% annual increase in access to public transit and other clean mobility options across the state,
strengthens recommendations to reduce carbon emissions from buildings, shifting the state's building stock to cleaner energy sources, increasing energy efficiency, and lowering costs for Michigan families, and
sets a goal of tripling the state's recycling rate to 45% and cutting food waste in half by 2030.
The Council Future Mobility & Electrification Report
As the industry evolves, it will create many good-paying jobs and build a more environmentally friendly transportation sector, including more equitable pathways to economic prosperity for all Michiganders.
This report's key finding is that to fully take advantage of the opportunity ahead of us, Michigan must work collaboratively with partners to address several challenges. Michigan must enhance its high-skilled talent development and attraction efforts in this industry and address workforce transition and development. Strategies must be developed to increase the state's share of advanced auto manufacturing and the accompanying supply base. Michigan must tackle the issues responsible for low electric vehicle adoption rates. Finally, Michigan must activate greater capital investment in automated vehicle technology and focus more on startup and second-stage business development. Michigan's historic strength in the automobile industry gives our state an enormous lead in the global competition to develop and deploy these new technologies. Under Governor Gretchen Whitmer's leadership the state has already started tackling many of these issues head on. Through our Sixty by 30 initiative, Michigan is working to build the skilled workforce necessary to grow and attract more jobs that require in-demand skills. In the year ahead, the Office of Future Mobility and Electrification and our Council will use this report as a baseline to develop policy recommendations that ensure Michigan retains its global leadership position in mobility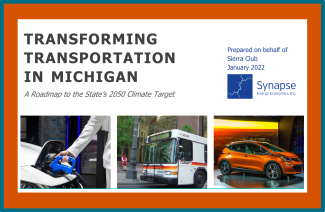 Transforming Transportation in Michigan
To address the climate crisis, Michigan has committed to achieving net zero greenhouse gas (GHG) emissions across its economy. As an initial step, the state has begun to set goals for reducing emissions in the electric power sector. The two largest utilities in the state have committed to achieving net zero emissions in the generation of electricity, though much work remains to make these commitments a reality. However, the transportation sector has seen less progress and emissions have been slowly increasing for much of the last decade. With transportation now accounting for 32 percent of Michigan's GHG emissions and contributing to air pollution that harms communities, the state must act quickly to set a pathway for net zero emissions in the transportation sector by 2050.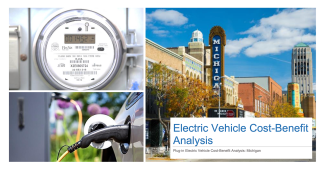 EV Cost Benefit Analysis
This study estimated:
Costs and benefits of increased penetration of plug-in electric vehicles (PEV) in the state of Michigan
Benefits that would accrue to all electric utility customers in Michigan due to greater utilization of the electric grid during off-peak hours, and increased utility revenues from PEV charging.
Annual financial benefits to Michigan drivers from owning PEVs– from fuel and maintenance cost savings compared to owning gasoline vehicles 
Societal benefits resulting from reduced gasoline consumption and associated greenhouse gas (GHG) emissions.