By Elizabeth Harlow
Narratives of 21st-century technological development and climate leadership in the U.S. often focus on cutting-edge coastal disruptors, overlooking the middle of the country or portraying the region as a lagging follower.
Ecology Center Climate and Energy Director Charles Griffith says that picture isn't quite accurate, including when it comes to tackling the largest single source of carbon emissions in the country: transportation. "While it's fair to say that the Midwest as a whole has been a little slower to prioritize electrified transportation, our region has dramatically stepped up its game in recent years. Right now there's high momentum for us to keep up."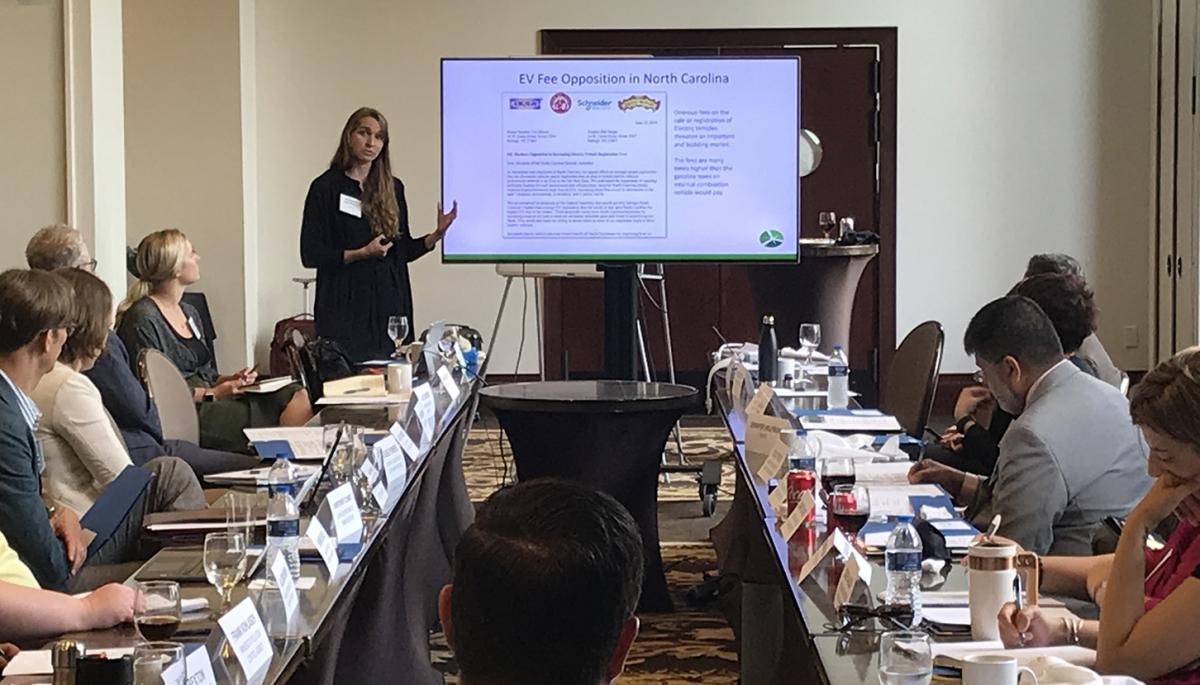 Last week in Detroit, an intimate gathering of regional power players (pun intended) demonstrated and accelerated that momentum during three days of conversations about the present and future of electrified transportation in the Midwest.
Charles worked extensively with Ecology Center partners to plan and facilitate two days of meetings that united more than 50 representatives from state governments, automotive companies, electric utilities, and environmental organizations across 10 states.
Participants took part in two, overlapping sets of meetings: one for the cross-stakeholder network MTEC (Midcontinent Transportation Electrification Collaborative), and one for the newer Central Region EV Corridor working group, made up of state government officials who are exploring the creation of regional partnership to advance a network of fast charging highway stations for interstate road trips. Both groups aim to speed the implementation of clean electric transportation to tackle the climate crisis, reduce air pollution, and increase economic development through green technology.
Facilitated by the Great Plains Institute and supported by the Ecology Center-coordinated Charge Up Midwest coalition, these collaboratives help advance electric vehicle adoption by making it easier for multiple parties to work together on EV-related projects and policies. Earlier this year in Chicago, MTEC convened an EV Summit and released its Transportation Electrification Roadmap, illustrating decarbonization pathways for the transportation sector and outlining a range of recommendations for near-term investments and policies to accelerate EV adoption in the region. At meetings like last week's in Detroit, experts across sectors and geography come together to learn from one another and discuss best practices.  
Charles found significant cause for hope at the meetings, and a few takeaways in particular have electrified his excitement (cue pun groan again):
State governments are seriously interested in speeding up vehicle electrification.
"I was really excited by how many states are not only showing interest in a potential regional corridor initiative, but also made it a priority to show up in the middle of summer."
The strong representation of state governors' offices was particularly noteworthy. Regressive federal action on environmental protection under the Trump administration makes state and local leadership on climate action and air quality essential.
Michigan's Office of the Governor was represented and made clear this administration's support for advancing EVs and clean mobility. "Though Governor Whitmer hasn't yet made specific commitments, we're excited to have her office engaged with the Ecology Center and our allies in developing its strategies and priorities."
The MTEC meetings' timing may also prove auspicious for interstate collaboration. The Midwestern Governors Association is having its first meeting since the 2018 election this week, and many governors will have electric vehicles fresh on their minds as they develop new agendas.
Other regional partnerships have a range of strategies and successes to share.
Two other regional partnerships shared their stories: why they were formed, how their efforts have been going, and what value they've offered their states and regions.
REV West, convened by Governors of eight intermountain western states, noted the economic and tourism benefits of having a well-coordinated EV corridor, so that electric vehicle drivers choose to travel in their states rather than route elsewhere. Most recently, they have been working on a set of voluntary minimum standards for fast charging stations that will be installed throughout the region.  
NESCAUM, a network of the country's eight northeasternmost states, focuses primarily on clean air and climate. They, too, emphasized the importance of a well-connected highway charging infrastructure, in addition to the climate benefits that increased EV adoption would bring. And, they noted the education and advocacy influence a regional network can leverage. Their collaboration with Volkswagen's Electrify America division led the automaker to install a higher number of charging stations and to conduct more consumer education programs than had been originally planned for the region.
There are more electric vehicle opportunities than you might think for trucks and, especially, buses.
Though most people think of small sedans when they think of electric vehicles, electrification is happening quickly in the medium and heavy-duty vehicle segments.
Transit buses, in particular, are ripe to transition en masse. The added up-front cost of an electric bus can be absorbed fairly quickly by fuel and maintenance savings over the life of a bus, and e-buses are now available that can meet the range requirements for full days of transit.
The technology is still emerging and improving, but cities of all sizes across the country are experimenting with pilot programs. Port Huron, MI (population 30,000) is slated to get two e-buses this year, joining about 1,500 other electric transit buses already on the road in the United States.
Proterra, the manufacturer responsible for nearly half of those transit buses, is also excited about a partnership with iconic yellow school bus maker Thomas Built. Ann Arbor and Roseville School Districts will be receiving grants for 6 electric buses in the coming school year, and the buses will also anchor a cutting-edge DTE-led study on how batteries can be used when the buses are idle.
Electric technology is also starting to make some sense for larger freight delivery trucks that operate locally or regionally, rather than on long hauls. As increasing internet-based sales lead retailers like Amazon to ship more of their products by air first, local and regional trucking is becoming an increasingly significant segment in freight transportation. Meeting participants were buzzing at the idea of more research on this opportunity, with electric utilities particularly interested in this new avenue for business.
The Midwest is planning to keep its momentum up.
"There was really positive energy in the meeting for making electrification happen for states in the central part of the country that often get overlooked," Charles said. Participants want to keep working together, and another, bigger meeting is already in the works for this fall.
 "It's a good sign that the middle part of the country doesn't want to be left behind and in fact wants to be an environmental and economic leader with electric vehicles."