PFAS contamination is one of the most pressing environmental health issues we face. These chemicals impact the lives and health of millions of Americans. 
Per- and polyfluoroalkyl substances (PFAS) are a class of more than 4,700 different chemicals with established links to adverse health impacts. There are more than 160 PFAS-contaminated sites in Michigan; in the United States, 2,854 PFAS contamination sites have been identified in 50 states and two territories. (Learn more: the Facts About PFAS.)
'PFAS' is a clunky acronym for a slick set of chemicals.
     -- Gillian Zaharias Miller, Senior Staff Scientist at the Ecology Center
Unfortunately, PFAS are all around us. Everything from household products like nonstick cookware and waterproof jackets, to industrial uses like aerospace, automotive, construction, electronics, and military.  
The Ecology Center has been working to "turn off the tap" and prevent PFAS pollution for over a decade. We advocate for city, state, and federal policy change. We test for PFAS in consumer goods and the environment and use the data to help drive national market-based campaigns. And, we help facilitate connections  between PFAS-impacted communities across the Great Lakes region. 
PFAS Policy in City, State, and Federal Governments PFAS Policy
The Ecology Center advocates for public policies to set health-protective standards, clean up existing PFAS contamination, and prevent future PFAS pollution. We also support cities, states, and the federal government to develop PFAS-free procurement initiatives. 
In 2019: 
The Ecology Center worked with the City of Ann Arbor to create their model sustainable procurement policy that explicitly lists PFAS and other hazardous chemicals to be avoided in city purchasing. This policy has served as a model for other small and mid-sized cities looking to create non-toxic purchasing policies. 
In 2020:
The Ecology Center advocated for strong health-protective drinking water standards for seven different PFAS in Michigan. The Whitmer administration issued the new standards in August 2020. Two of the standards are the strongest in the country. 
We also advocated for HB 4390 that was signed into law in July 2020 and created one of the country's first take-back programs for PFAS-containing firefighting foam. 
In 2021:
The Ecology Center successfully advocated alongside our partners to encourage the state of Michigan to limit its purchase of products made with PFAS, a directive that set a national precedent for state-level procurement policies focused on toxic chemicals and human health; and
Alongside the Environmental Working Group and Safer States, we successfully advocated for President Biden to direct the federal government to purchase clean, sustainable products, such as those without PFAS.
Learn more about PFAS action for decision-makers.
Testing for PFAS in Products & the Environment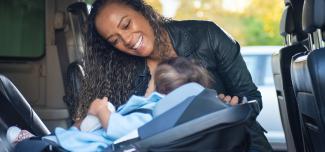 The Ecology Center's Healthy Stuff Lab tests consumer products for PFAS to help drive national market-based campaigns. We work in national coalitions to encourage manufacturers and retailers to clean up their product lines, while providing consumers the information they need to make toxic-free purchasing decisions. Following product testing, we often work with manufacturers to incorporate alternatives to PFAS and encourage the transparent disclosure of product contents. Recent products tested for PFAS include car seats, fast food containers, carpets, caulk, turf, and more. 
In addition to consumer products, the Ecology Center has started testing fish and water for PFAS. In 2022, we will begin a community-based participatory project in the Huron and Rouge River watersheds. We hope to better understand the many understudied PFAS chemicals that show up in fish. Following our test results, we will partner with subsistence anglers to educate the angler community about safe alternatives to eating fish containing PFAS. 

Great Lakes PFAS Action Network
In 2020, PFAS-impacted community members worked with the Ecology Center, and our partners at the Michigan League of Conservation Voters Education Fund (MLCV) and the National Wildlife Federation (NWF) to form a powerful coalition driven by impacted communities. Together, we created the Great Lakes PFAS Action Network that amplifies the voices and stories of impacted communities across Michigan and the Great Lakes region.

The network's mission is to stop ongoing and future PFAS contamination, and we use education, outreach, and advocacy to accomplish our goals. The Ecology Center's role is to facilitate and coordinate the network in tandem with PFAS-impacted communities' needs and wants. We leverage our decades of community organizing experience as well as our policy and science expertise.

Visit glpan.org to learn more and take action.