One of 50 Stories of 50 Years of Action
By Alex Honold
Early morning rains on Tuesday, April 13th, 2010, prevented the draft horses--a caramel-colored Belgian and a jet black Shire--from safely tilling the one-acre farm at St. Joseph Mercy Hospital in Ypsilanti. Volunteer farmer Hank Beekley and his horses returned to the field the next day. A tractor might have been quicker, but the horses had the benefit of being relatively quiet and pollution free. Not long after Beekley got started with his work, a local reporter named Dave Askins arrived to take in the curiously antiquated scene. He was soon joined by Lisa McDowell, St. Joseph's head of nutrition; Dave Raymond, the hospital's Director of Planning and Design; and Rob Casalou, hospital CEO.
Askins asked how a place like St. Joseph Mercy Health System wound up in the farming business. Casalou explained that it stemmed from a belief that St. Joseph's "is not just a place where people go and get fixed" but a place that "provides support for overall wellness." And, for St. Joseph's, providing patients, visitors and staff with fresh, locally produced foods was a critical aspect of wellness.
While Beekley's horses were tilling the new farm, administrators at St. Joseph's were putting into motion plans for a million-dollar redesign of the hospital cafeteria which would open in September 2011. Under the leadership of executive chef Ryan Kendall, a hire from Ann Arbor's Google campus cafeteria, St. Joseph's aimed to lay out an entirely new menu of healthy, sustainable, and affordable food options--much of it sourced right from the hospital's backyard. St. Joseph's continues these programs today. 
Critical to the success of the project was the behind the scenes work of the Ecology Center. In the years leading up to the design of the St. Joseph's farm and cafeteria, staff at the Ecology Center had met with McDowell and Raymond a number of times, providing them with information about best practices and models from similar projects across the country. Once the plans were in place, the Ecology Center continued to provide guidance to St. Joseph's and helped communicate the success of their program to other hospitals nationwide.  
The Ecology Center's work with St. Joseph's is just one example of a wide range of the Center's work dedicated to improving the health and sustainability of foods served at institutions across Michigan. In partnership with organizations like Health Care Without Harm (HCWH), the Michigan Health and Hospital Association (MHA), and Michigan State University's Center for Regional Food Systems (CRFS), the Ecology Center has helped to establish critical institutional food campaigns and networks, including the Michigan' Healthy Food in Health Care (HFHC) program, the Michigan Farm to Institution Network (MFIN), and Cultivate Michigan. Through all these initiatives, the Ecology Center has worked to promote health and justice by leveraging the purchasing power of large institutions.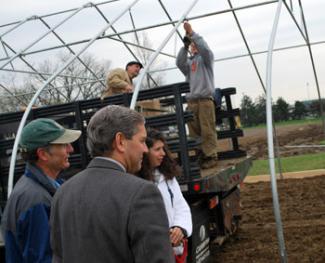 A Cafeteria Food Fight: A Brief History of Institutional Foods 
In the last 75 years, institutions --  such as hospitals, schools, and universities -- have come to play a massive role in America's food supply chain. The average U.S. hospital cafeteria in 2015,  served about 1,000 meals a day. The average university served nearly 10,000 meals a day. Altogether, institutional food service makes up about two thirds of the global foodservice industry.
Institutional food consumption in many ways originated with World War II. To keep production lines moving, the U.S. government needed to feed the millions of men and women working in its wartime industries. This led to a scaling up of industrial farming practices and the creation of supply chains that connected farms in California to factories in Detroit. Within several decades, supplying and operating food service at schools, factories, and hospitals would become a multibillion-dollar industry controlled by three international conglomerates: Compass Group, ARAMARK, and Sodexo. Together, these corporations manage over half the U.S.'s cafeteria food service.
Cheap, ready-to-serve institutional food has come at a high price for health and the environment. Processed foods often contain unhealthy levels of salt, fats, and preservatives, contributing to diseases like hypertension and diabetes. In global supply chains, both raw and processed foods might travel thousands of miles on fossil-fueled trucks and ships. And, often this food is harvested or manufactured in places without adequate environmental and labor protections. What's more, the foods served at institutions often depend on industrial farming practices. Chemical fertilizers and pesticides can leach into water supplies, causing long term damage to ecosystems and human health. Antibiotics, when overused in animal populations, can lead to more antibiotic resistant strains of bacteria. 
The Ecology Center got involved in early efforts to educate consumers about safer agricultural practices through community gardening initiatives like Project Grow. By the late 1990s and early 2000s, the organic and "buy local" movements had grown from a niche to mainstream consumer movement, but cafeterias and other institutions were slow to adapt. Regionally focused, innovative stakeholders sought to change this. One of these change-makers was an Oakland, California-based physician named Preston Maring, who helped establish a farmers' market inside the hospital where he worked in 2003. 
The Ecology Center Connects Hospitals to Local Farms
Years before Maring's farmers' market broke ground, the Ecology Center had been working with hospital administrators and MHA on initiatives to make hospital operations more sustainable and environmentally just. In the late 1990s, for instance, the Ecology Center and MHA received an environmental justice grant from the EPA to help reduce mercury emissions from Michigan hospitals. The Ecology Center also helped MHA organize its yearly sustainability conferences for Michigan's healthcare sector. Starting in the mid 2000s, the Ecology Center began working closely with MHA to develop a statewide campaign to push hospitals to source healthier, locally grown foods for hospital patients, staff, and visitors. 
The MHA and the Ecology Center both recognized that foods served at hospitals had important health implications, and not just for the patients. In some urban areas, hospitals might be one of the only accessible sources of fresh food for hospital staff and visitors. The Ecology Center also understood that hospitals' can leverage their position as large food-purchasers to make demands of mega suppliers that can have broad impacts on food systems.  
The Ecology Center expanded its role in hospital food systems in 2005 when it became the coordinator of Michigans' Healthy Food in Health Care (HFHC) program, a branch program of HCWH which worked directly with hospitals to try to change their food consumption patterns. One of the major targets of HFHC was to reduce the amount of antibiotics-fed meat that's served in hospitals. At the time, the Ecology Center had two part-time staffers devoted to this work, Ruth Blackburn, and Rachael Baker, who later became the environmental supply chain manager at Kaiser Permanente.
From 2005 onward, the Ecology Center worked with MHA to develop a healthy food pledge similar to HCWH's HFHC Pledge and persuaded over 140 hospitals in the state to adopt the pledge. Within a decade, at least two-thirds had signed on, including major systems like Henry Ford Hospital.
As the program's portfolio expanded, in 2009 the Ecology Center hired Hillary Bisnett (Greenwood) as the Center's first full-time director of Michigan's HFHC program. Bisnett's first task was to organize HCWH's 2009 food conference, FoodMed, which the Ecology Center was hosting for the first time that year. The conference was an opportunity for food service professionals and experts in food systems to meet and share best practices. Bisnett also expanded the Ecology Center's relationship with MHA, becoming a member of their Green Healthcare Committee.
Hospital Partner Spotlight:  Bronson Methodist Hospital
Bronson Methodist Hospital, with its flagship located in Kalamazoo, MI, signed onto the Healthy Food in Health Care pledge in May of 2008. As Mike Rowe, director of food service, told the Detroit Free Press, "It just works out that many things listed on the pledge are things we've been undertaking for quite some time." 

Compared to similar hospitals, Bronson focused intently on sourcing local food, including cage-free and antibiotic free chicken and eggs. In 2011, over a fifth of their food was purchased from local farmers and producers. 
Ruth Blackburn of the Ecology Center helped develop the relationship with Rowe at Bronson and worked to spread word of Bronson's activities to other hospitals in the state. Bronson's relationship with the Ecology Center continued under Hillary Bisnett. Reflecting on her work with Bronson and other hospitals, Bisnett remarked that "a lot of the work I did was just about the relationships themselves and finding the right people to support them internally."
Since the development of the healthy food pledge, the Ecology Center has used their Health Leaders Fellowship to transform health care leaders into food advocates. Two practicum groups from the inaugural graduating cohort of fellows worked with food providers at their respective institutions (Henry Ford Health System and St. Joseph's) to increase the supply of sustainable food options, such as antibiotic-free meat and poultry. 
Institutional Food Work Beyond Hospitals
In 2014, the Ecology Center branched out to other institutions and launched Cultivate Michigan, a state-wide local purchasing campaign that provides information and data tracking tools to food service buyers. Cultivate aggregates the data from its members to measure impact and provide targeted advice to purchasers.  
One such Cultivate member is Montague Area Public Schools. The schools' food-service director, Dan Gorman, has not only used Cultivate resources to bring locally grown foods like potatoes and squash into the schools, but has also integrated the farm to cafeteria program into some of the schools classes. In Culinary Management, for example, students are tasked with creating recipes that use available, local ingredients. Although the majority of Cultivate members are school districts like Montague, the program also has members in health care, child care, and other institutions.   
The Ecology Center and many local environmental groups partnered with the Community Food Security Coalition to plan and host the 5th National Farm to Cafeteria Conference in Detroit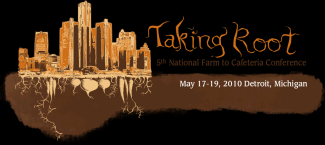 Cultivate is now part of a broader initiative called the Michigan Farm to Institution Network (MFIN), which was founded by the Ecology Center and MSU's CRFS in 2015. The Ecology Center and CRFS designed MFIN as a space for institutions, food suppliers, and eaters to learn about local food systems and work together to promote sustainable food. MFIN members host educational events and tours, showcase featured foods and recipes, research and share with other members their experiences about sourcing local food, conduct outreach to potential members, and innovate ways to track food purchasing data. Both Cultivate and MFIN were conceived as a way to get institutions to sign on to the goals of the 2010 Michigan Good Food Charter. The Charter, assembled by CRFS, the Food Bank Council of Michigan, and the Michigan Food Policy Council, called for institutions to locally source at least 20% of what they serve by 2020. 
Continuing their tradition of seeding innovation and empowering regional stakeholders, in 2018 the Ecology Center transferred control of MFIN and Cultivate to CRFS. They have continued to grow the program. According to CRFS, as of December 2020, Cultivate Michigan has garnered 228 institution-members and MFIN over 600. By transferring control of programs to stakeholders closest to the work, the Ecology Center has been able to remain a flexible organization with a broad impact.  Food served at large institutions like hospitals and universities have major implications for regional, national, and global food systems. For the last fifteen years, the Ecology Center has helped to bring hospital and institutional food into more conversations about health and sustainability. Through programs like HFHC, MFIN, and Cultivate Michigan, The Ecology Center has worked to re-localize production where possible and transform industrial food production.