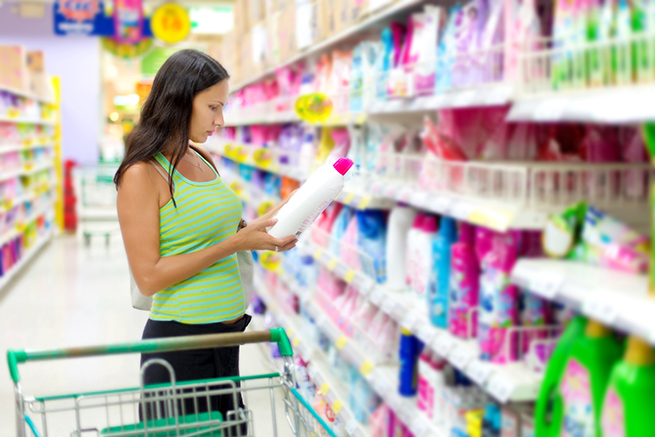 When walking down the cleaning or laundry aisle, we may instinctively reach for the brand we have always known without so much as a second look. But, information on that bottle could help you to decide if this is truly the right product for you and your family.
Cleaning Products: Dirty Secrets 
Carcinogens, hormone disruptors, allergens. These are not words you would expect to find on the outside of a bottle of household cleaning solution. Yet, that is exactly what's inside, according to a recent report from Women's Voices for the Earth, Dirty Secrets: What's Hiding in Your Cleaning Products?
Women's Voices for the Earth, a national non-profit organization, commissioned tests examining 20 brand-name cleaning and air care products and targeting a range of chemicals, including volatile and semi-volatile organic compounds. Brands tested included: Clorox, Pine-Sol, Tide, Bounce, Febreze, Lysol, AirWick, Glade, Pledge, Windex, and Simple Green.
Allergens
Reactions to allergens can range from mild skin rashes, eye, nose, or throat irritation, or headaches to difficulty breathing and asthma. Allergens, found in 19 of the 20 products tested, constitute the most widespread concern amongst the products. Amounts ranged from less than one part per million (ppm) in two products marketed as "fragrance-free" to tens of thousands ppm in two scented oil products (a Glade Plug-In registered as high as 81,000 ppm). The allergens detected include limonene, DL-Citronella, linalool, eugenol, and coumarin. According to the report, the European Union mandates these chemicals identified on labels so people suffering from allergies or those who are sensitive to fragrances can avoid them. Alexandra Scranton, author of the report, comments that "When you are looking for 'fragrance-free', you really want fragrance-free; not 'fragrance-light'."
Those looking for fragrance-free can look to Pledge Multi-Surface Everyday Cleaner Fragrance-Free Hypoallergenic: absolutely none of the chemicals tested were detected in it.
Hormone Disruptors
Phthalates, which act as hormone disruptors and are linked to birth defects, were found in products manufactured by SC Johnson (Glade) and Sunshine Makers, Inc. (Simple Green).
On the company website, SC Johnson stated that "[DEP] is the only phthalate that was used in the fragrances in SC Johnson home cleaning and air care products." The company began phasing out the use of the chemical in 2008. DEP as an intentional ingredient is still present in its Glade Tough Odor Solutions with Oust Refreshing Citrus Air Sanitizer at 7.8 parts per million (ppm). Surprisingly, though, three other phthalates showed up, including DEHP (19 ppm), a phthalate banned in European cosmetics for its mutagenic properties and flagged by the U.S. EPA as a probable human carcinogen.
In addition to four types of phthalates, galaxolide, which is a hormone disruptor and a synthetic musk, occurs in the Glade product at 88 ppm. This same ingredient occurs in Febreze Air Effects Spring & Renewal at 0.62 ppm.
Sunshine Makers, Inc. debuted their line of Simple Green Naturals in 2008 announcing they "…contain 100% naturally derived ingredients – no synthetic preservatives, colorants, or fragrances. The ingredients of Simple Green Naturals come from bio-organics…" But, the independent testing shows Simple Green Naturals Multi-Surface Care Lemon Verbena contains DEHP at 0.58 ppm. According to the report, Sunshine Makers, Inc. committed to reformulate products that contained phthalates in 2010.
Scranton states that at these levels phthalates could be present as contaminants, but reminds us, "…companies are responsible for quality control practices to ensure that phthalates at any level are not found." Of the toxic chemicals, she says, "They're just not necessary in the product." Hormone disruptors are a class of chemicals known for their ability to have adverse effects at very low doses.
Carcinogens
The Simple Green Naturals product and two Tide products tested positive for 1, 4-dioxane. According to the National Toxicology Program's Twelfth Report on Carcinogens, "1, 4-Dioxane is reasonably anticipated to be a human carcinogen…" Tide Free & Gentle Liquid Laundry Detergent had the highest amount at 89 ppm.
Chloroform is also listed in NTP's 12th ROC as "reasonably anticipated to be a human carcinogen." It may occur in chlorine-treated drinking water at 0.0002 to 0.0044 ppm. It was found in Clorox Clean-Up Cleaner with Bleach at 4 parts per million—that's about 100 times greater than the maximum amount in drinking water.
Pine-Sol and Simple Green All-Purpose Cleaner were found to contain toluene, a solvent, and neurotoxin that has been removed from many nail polish formulations due to consumer pressure over links to cancer and its ability to cause developmental damage to a fetus.
Disclosure
Advances have been made. In efforts to garner consumer trust, formerly secretive companies are now presenting ingredient lists on their websites. Full disclosure is rare, however, especially for the term "fragrance," which may include over 3,000 different chemicals. And, none of the potentially dangerous ingredients were listed on the labels of the tested products.
The Cleaning Product Right to Know Act (H.R. 3457), introduced November 17th by Representative Steve Israel (D-NY), could change that.  This bill calls for full ingredient disclosure on product labels as well as on-line. According to Rep. Israel, "You have a right to know what's hiding in your household products."
If enacted, this bill will provide consumers with specific information while choosing products in the cleaning aisles. Rather than using only our current system of signal words (Caution, Warning, Danger) designed to categorize products according to lethal dose, companies would also list ingredients in descending order of predominance by weight. Learn more about our current labeling system: EPA Signal Words.
Safer products
Thousands of ingredients, like toluene and DBP (a phthalate), are available to both cleaning and cosmetic manufacturers. But, since cleaning companies—unlike cosmetic companies—don't have to list ingredients on the label, consumers are left with no way to avoid certain ingredients of concern.
In the past decade, cosmetic consumers demanded—with their voices and their purchasing decisions—the removal of toluene and DBP from nail polish formulations. As a result, the majority of nail product companies have voluntarily reformulated to omit the two chemicals, even though some manufacturers maintain the chemicals are safe. With full ingredient disclosure on cleaning labels, consumers can decide for themselves what is "safe" and what to avoid.