Co-authored by Alexis Blizman, Legislative & Policy Director at Ecology Center and Ariana Gonzalez, Senior Energy Policy Analyst in the Climate & Clean Energy Program, National Resources Defense Council 
Michigan's House voted against Governor Whitmer's executive order that would better position the government to protect the health and safety of families across the state. The move is more than tone deaf, it's dangerous, especially as NRDC's new report underscores the many health impacts of climate change in Michigan.
The "Climate Change and Health in Michigan" report is yet another in a string of compelling climate reports in the last few months. In October, the United Nations' Intergovernmental Panel on Climate Change (IPCC) came out with "A Special Report on Global Warming of 1.5°C" that walked through the projected global changes, impacts, and associated risks of warming to or exceeding the 1.5°C level. Later, in November, experts within the United States federal government released the Fourth National Climate Assessment detailing how the burning of coal, oil, and gas is affecting the global climate faster now than any other time in modern human history. Collectively, these reports highlight the detrimental impacts of climate change not only coming, but already occurring. The good news is we know the course correction necessary; we simply need to accelerate.
Consequences and Concerns
All three reports reinforce many of the same causes for concern from climate change. To name a few:
More frequent temperature extremes
Heavy precipitation in some areas and drought in others
Compromised air and water quality
Increased transmission of disease through insects
Biodiversity, ecosystems, and agriculture will be seriously impacted
Low-income and vulnerable communities disproportionately impacted
But what does this look like in Michigan? NRDC's report predicts that with the current trajectory of global carbon emissions the Detroit metropolitan area alone will see an annual average of 760 excess deaths on dangerously hot days by the 2040s.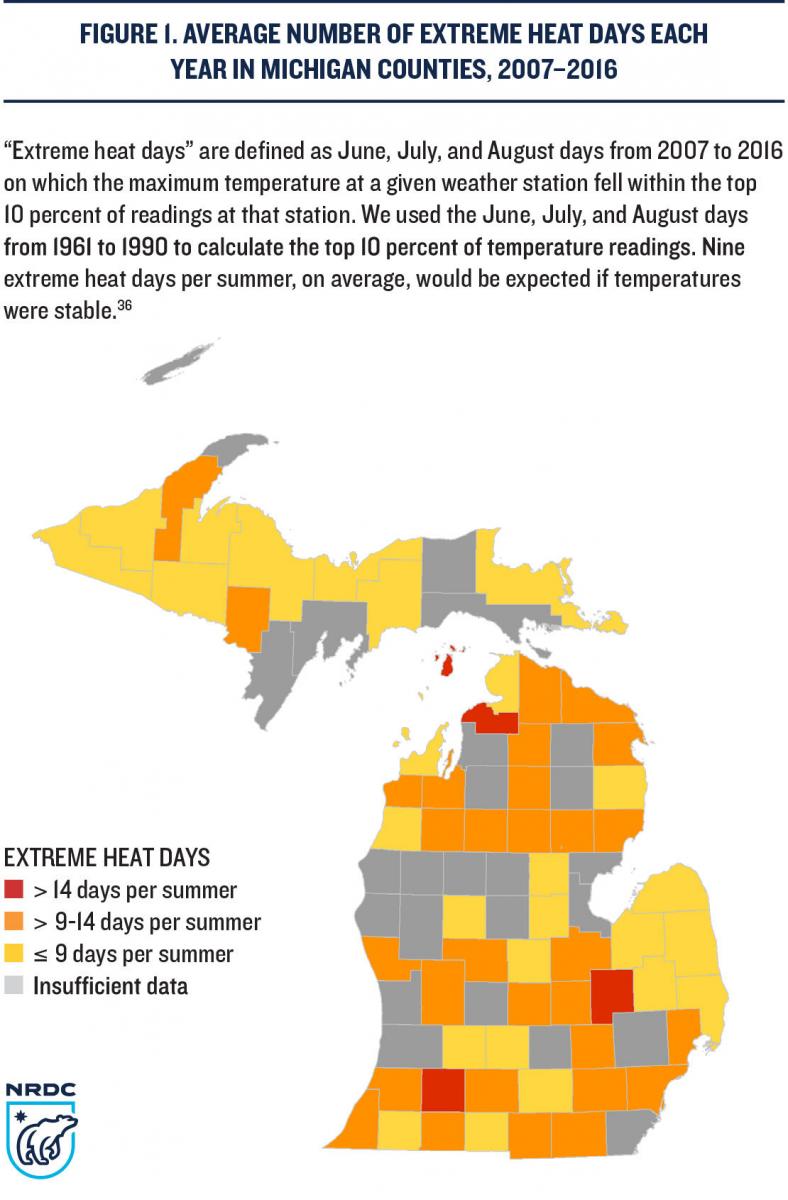 The weather extremes also create breeding grounds for mosquito and tick populations in the Great Lakes, increasing the prevalence of serious mosquito and tick borne illnesses such as West Nile virus and Lyme disease. Effects are especially severe in areas with combined sewer and stormwater systems, those that rely on well-water, and lower income communities struggling with aging infrastructure.
Sharon Gadoth, RN, a nurse at the Frankel Cardiovascular Center, Michigan Medicine, Ann Arbor notes that, "We are already seeing an increase in insect-borne illnesses, which can have long term and deadly health impacts. As a cardiac care nurse, I have seen patients with cardiac complications of Lyme disease often in young people which can be severely debilitating."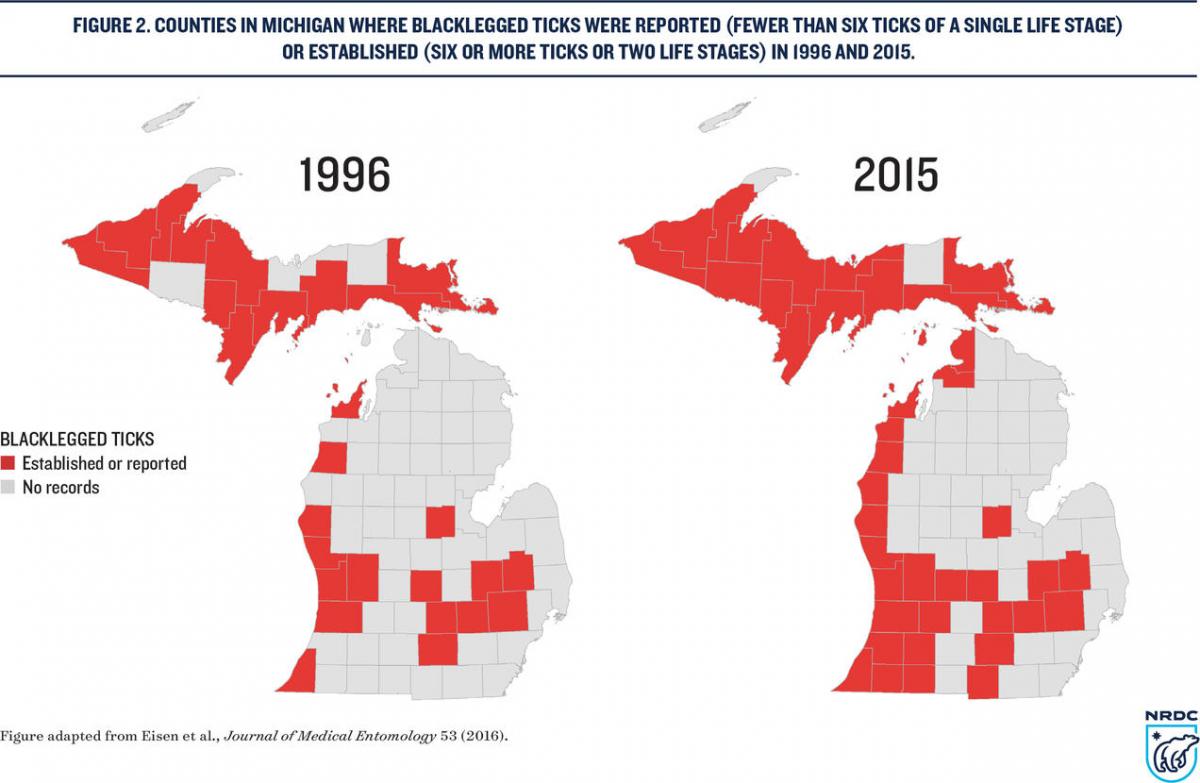 Last week, Michigan experienced a different type of extreme weather event. The polar vortex brought with it life threatening cold temperatures, with wind chills approaching -40. Extreme cold also results in poor air quality and an increase in particulate matter, predominantly a result of increased smoke from fireplaces and burning stoves, and carbon monoxide from idling vehicles. Vulnerable populations, including infants, the elderly, those with pre-existing conditions such as asthma and COPD, and low-income households, which often have substandard insulation and ventilation, are particularly susceptible during these weather events.
Michiganders also experienced first hand the vulnerability of an energy system dependent almost entirely on fossil fuels, as a fire at a natural gas compression station resulted in all customers being asked to turn their thermostats below sixty-five. Fortunately, everyone stepped up to avert a major crisis, but increased investments in energy efficiency would reduce the amount of energy we need, and diversification of our energy generation with more renewables, would protect us from potential energy shortages as we see an increase in extreme weather events.   
The Good News
Not all news is bad news from these reports though. They also direct us toward solutions, most of which are already in our policy toolbox. All three reports point to the need for rapid and expansive transformations across all industries and sectors.
Energy in particular offers a multitude of solutions and opportunities including energy efficiency, renewable energy, and transportation electrification. The National Climate Assessment notes that an escalation of the pace, scale, and scope of efforts is needed to ensure safe and reliable energy and to fortify the energy system to address present and future risks. It also makes common sense. Our grid, not unlike your cell phone, is in dire need of an upgrade to meet the needs of its users. It just so happens that this upgrade also helps reduce carbon emissions.
People over Politics
In Michigan, many of these options are well underway such as Consumers Energy's proposed increase in levels of renewables and energy efficiency, along with new pilots for electric vehicles charging infrastructure, but even more lay in front of us. DTE will be filing their long term energy plan (integrated resource plan) in March and their next energy efficiency plan in July.
All the while, the Whitmer administration is crafting its own plan to tackle climate and health, beginning with the very same executive orders that are now being attacked. We need to be accelerating our efforts, not putting up more roadblocks and kicking the can down the road in the name of politics. If we act now, we have a chance to ensure Michigan thrives, not only survives.
NRDC works to safeguard the earth - its people, its plants and animals, and the natural systems on which all life depends.