Lead has lifelong impacts on children
Our children's health in Michigan is being threatened by widespread exposure to toxic chemicals, of particular concern is lead. Lead is a potent neurotoxicant that has lifelong impacts on children. There is no safe level of lead exposure. Our homes, schools, and childcare centers have been contaminated with this harmful chemical. Children are exposed to lead found in the drinking water, paint, and soil in our communities. As we adjust to the many challenges brought on by the coronavirus, families are spending more time in and around their homes, which could potentially be sources of lead poisoning. Children spending more time inside lead-contaminated homes exacerbates their exposure to this harmful neurotoxicant. 
Childhood lead poisoning damages the brain and nervous systems, leading to poor development and lasting health problems. Exposure to lead is associated with: 
ADHD
Hypertension
Kidney damage
Poor development 
Decreased IQ
Reduced ability to pay attention
Decreased academic achievement 
Poor adaptivity and problem solving skills
These impacts translate into costly, life-long learning and behavioral problems. A 2016 study released by the Ecology Center found the economic impacts of lead poisoning in Michigan in 2014 to be nearly $270 million, including $112.5 born by taxpayers. A summary of these costs is shown in the figure below.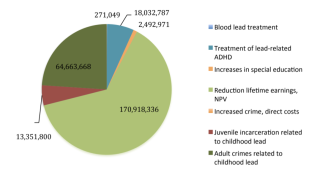 Lead Exposure in Michigan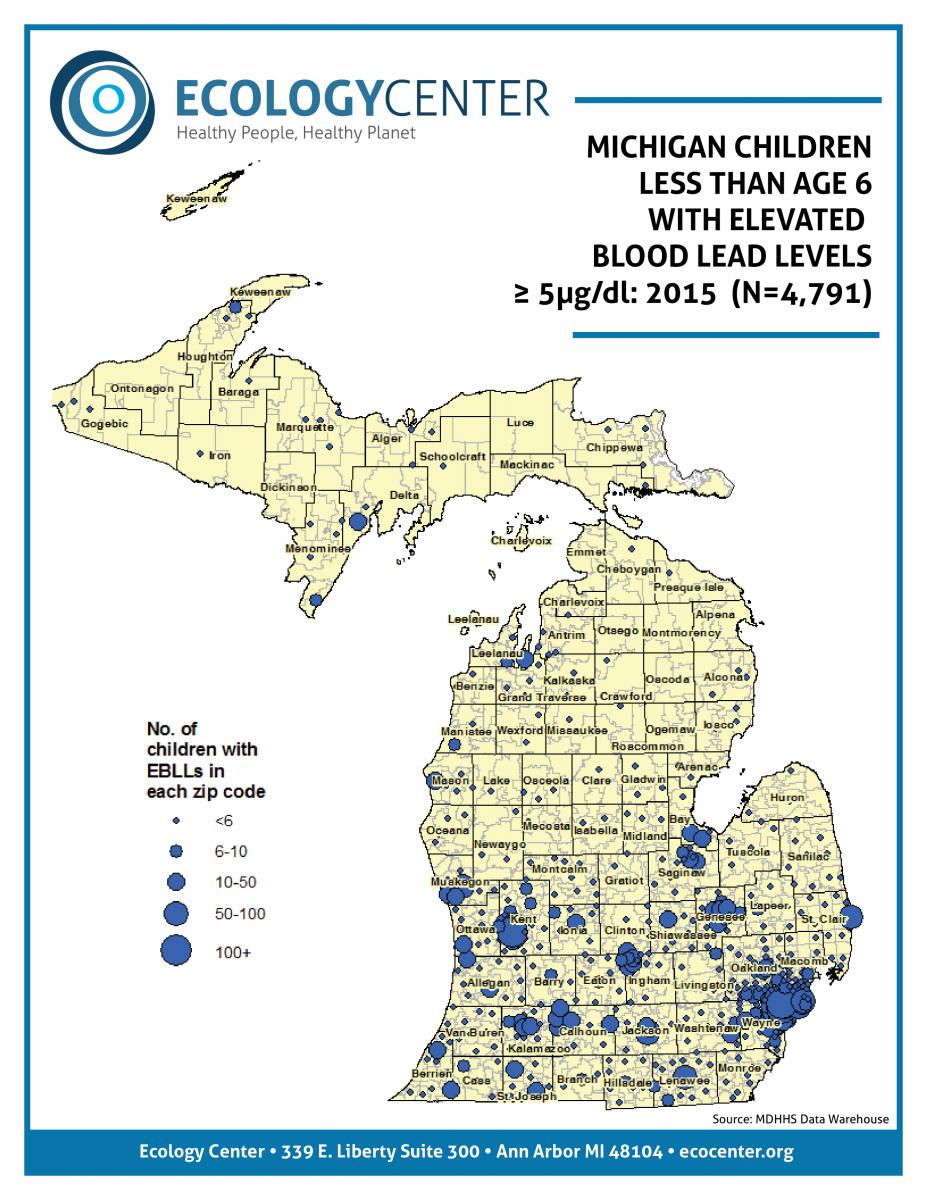 The Flint Water Crisis exposed over 100,000 residents--including more than 10,000 children--to high levels of lead through their drinking water. This crisis is not an isolated incident; however, it shined a light on the need to address our state's crumbling water infrastructure to protect children from lead across Michigan.
In addition to lead exposure from drinking water systems, Michigan's housing stock also presents a large risk of lead exposure. More than 70% of Michigan's housing stock was built before 1978, when lead paint was banned in the US. Children's exposure to lead in the home could be exacerbated by the increased time spent in their homes as a result of restrictions put in place due to the coronavirus outbreak. Remediating 100,000 of Michigan's most at-risk homes is estimated to cost approximately $600 million, and would reduce lead exposure and the associated costs by about 70%. Ultimately, this investment would pay for itself in about 3 years. 
In 2016, more than 5,700 children in Michigan were lead poisoned; that's 3.6% of children in Michigan identified to have elevated blood lead levels. The state needs to guarantee the health and safety of all children by investing in measures to prevent childhood lead poisoning.
Solutions 
A range of actions are recommended to aid the primary prevention of childhood lead poisoning in Michigan. These actions include: 
Universal testing for all children at 1 and 2 years old 
Shifting the burden of proof to landlords by: (1) requiring the submission of documentation proving a rental home has been made lead-safe after a child living there has been lead poisoned; and (2) requiring lead risks to be fixed or disclosed prior to renting a unit. 
Require a lead risk assessment at the time of sale or transfer of property. 
Align with the Childhood Lead Exposure Elimination Commission (CLEEC), the commission created by Governor Snyder to work to eliminate lead exposure for Michigan children. The Commission's goals and actions are outlined in its 2018 Annual Report. 
Fund budget requests for lead abatement work done by Michigan's Department of Health and Human Services, as well as for the Lead Commission.