Mardi Gras is full of masks, costumes, and disguises. And it's not just the people hiding their identities. Your old computers, cell phones, and other electronics are hiding in plain sight as iconic beaded Mardi Gras throws. You probably never thought you would see that Apple iPhone 3 again. But, there it is all chopped up, packed into a shiny round bead, and painted with bright metallic colors.
Most of our e-waste is shipped overseas. But, it doesn't stay there. It can be made into cheap, plastic one-time use products like Mardi Gras beads. The Ecology Center recently tested 56 beaded necklaces (aka Mardi Gras beads) collected from Mardi Gras celebrations in New Orleans and parades in Florida. What we found mirrors our 2013 findings, in which we found bits of chopped up electronic waste (e-waste) inside the beads, along with high levels of toxic chemicals.
Our iPhones and other electronic devices are made of heavy metals, including lead and are surrounded by plastic "housing" that is infused with flame retardant chemicals. When recycled, these hazardous metals and chemicals are passed on to the new product.
For our latest study, we tested 66 components in the 56 necklaces/ garlands. We found most of them contained high levels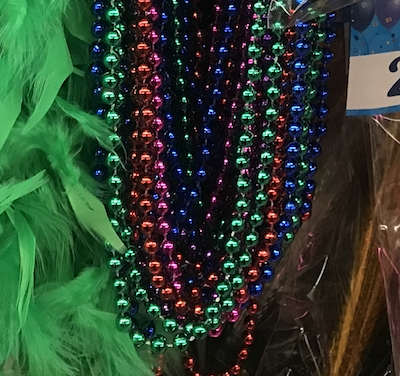 of bromine (70% of tested samples) and antimony (64% of tested samples), strongly suggesting the presence of brominated flame retardants and antimony trioxide. Most of these beads also contained levels of chlorine consistent with the presence of chlorinated flame retardants. A number of flame retardants are known endocrine disruptors and some are linked to cancer. Brominated and chlorinated flame retardants don't break down easily in the environment.
One-third (33%) of the samples contained lead at levels higher than 100 parts per million (ppm), the limit allowed in children's products in the United States. One sample contained lead as high as 472 ppm. Lead is a known neurotoxin. Additional tests on a subset of necklaces found that 12 out of 14 contained a triaryl phosphate chemical. Triaryl phosphates are used as flame retardants or as plasticizers. 
If you have Mardi Gras beads, do not allow children or adults to put them in their mouths and always wash hands after handling the beads. Also consider bringing baby wipes to the parade to wipe children's hands after catching and playing with beads and before eating. Wash the beads that have been caught, especially if they were lying on the ground. 
Alternatives to Plastics in Parades
Plastic wasn't always such an integral part of Mardi Gras celebrations. The original beads were made of Czechoslovakian glass. Throws included food items, such as gold-painted walnuts, sugar-coated almonds, and coconuts. Not only are plastic Mardi Gras beads toxic, but they also have become a solid waste issue, with tons of the discarded, unwanted plastic beads littering the streets, clogging storm drains, and polluting local rivers and the Gulf of Mexico. 
Some parade organizers in New Orleans have started to look for more creative (and valuable) options to the single-use plastic throws. Atlas Handmade Beads, made from recycled magazines, were tossed by some krewes this year. Their purchase of Atlas beads supports a women's art collective in Uganda. Scientists at Louisiana State University have developed biodegradable beads made from algae. And non-bead throws like food are making a comeback as the non-profit, Grounds Krewe offers a catalog of "throws worth catching" (many sold out for 2020), such as small jute bags of red beans, jambalaya rice mix, and coffee. Other items in the catalog include recycled paper pencils, bamboo toothbrushes, necklaces made from seeds or bamboo, and small herb growing kits.
In 2018, 46 tons of beads were removed from storm drains in a 5 block area after Mardi Gras. To keep toxic plastic beads out of the storm drains and waterways, the non-profit Arc GNO, collects discarded beads, cleaning them, fixing them, and then reselling them. People who handle plastic Mardi Gras beads regularly should wear gloves. 
All of these efforts will help reduce the demand for new toxic, single use plastic beads. To reduce our e-waste, we must also ask ourselves if we really need the latest iPhone or other electronic gadget.
More info: Mardi Gras Beads are Cheap, Fun to Throw -- and Toxic for the Environmnent
Weary of wasted Mardi Gras beads, New Orleans group makes local food into parade throws