The Ecology Center's decades-long commitment to securing Michigan's clean energy future is gaining traction in Michigan's state government. By focusing on the importance of an electric transportation system, Ecology Center Climate and Energy Director Charles Griffith has led the way, drafting recommendations for Governor Whitmer's Council on Future Mobility and Electrification (CFME) and serving as co-chair of the Council on Climate Solution's Transportation and Mobility Working Group. For Griffith and others, the benefits of investing in electric transportation are clear–-reducing carbon emissions, dirty diesel pollution and increasing the number of green jobs--a triple victory for Michigan, protecting the environment, people's health and boosting the economy. 
On January 26th, 2022, Michigan's 185th birthday, Griffith's efforts gained momentum. In a nod to the importance of electric transportation in building Michigan's future, Governor Gretchen Whitmer delivered the annual State of the State address from Detroit Diesel, a manufacturing plant whose rich history–the site dates from the days of World War II–underscores just how far we've come. Today, workers are building electric powertrains for Freightliner medium-duty and heavy-duty semi-trucks.Thanks to advocacy work by the Ecology Center and its partners, and with Whitmer's new policy recommendations, demand for these energy-efficient, and less-polluting vehicles will only increase in the coming years.
In her address, Whitmer highlighted recent wins in the march towards electrification and outlined critical next steps. Just the day before, on January 25th, GM agreed to invest $7 billion in four plants across the state to advance electric vehicle and battery production, creating 5,000 jobs in the process. While this is an encouraging development that will help establish Michigan as a nationwide leader in vehicle electrification, it's only the beginning. In addition to the GM investment, Whitmer proposed that Michigan add to the existing $7500 federal electric vehicle credit, offering an extra $2500 for Michiganders. Finally, Whitmer supported the goal that auto manufacturers in the state move towards "100% electrification of their fleets" within the next 10-15 years.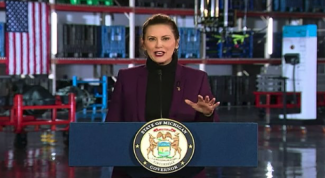 "While Michigan has established leadership in the development and manufacturing of electric vehicles, which GM's recent announcement accelerates severalfold, it unfortunately lags behind other states on policy to promote the purchase of these cleaner, low-carbon vehicles," said Griffith. "Governor Whitmer's proposal to add a $2,500 state incentive for the purchase of an electric vehicle would be a great first step in showing leadership making it easier for Michigan residents to drive electric, and hopefully the legislature will agree." 
The proposed $2,500 vehicle rebates were also included in the Governor's proposed budget, along with funding for electrifying the state's own vehicle fleet.  And thanks to the federal Infrastructure bill (or IIJA), there is funding in the Governor's budget for public charging infrastructure and local and inter-city transit and rail infrastructure expansion.
Any movement towards a more safe and equitable transportation system that harnesses the potential of electric power is a big win for the people of Michigan. But the Ecology Center and its advocates won't stop pushing for progress. Securing a clean energy future for all will require that Whitmer not only see her current recommendations through but also champion additional recommendations made by her CFME and Climate Councils, including a proposal for a $50 million pilot program that would bring electric buses, infrastructure and technical assistance to public and school transit systems. 
In the meantime, the Ecology Center will work to make sure that policymakers at the state and federal level are held accountable, remembering the commitments they've made to a greener, more sustainable future in electric transportation.