FOR IMMEDIATE RELEASE: JAN. 14, 2020
Contact: Rachel Perkins, Byrum & Fisk Advocacy Communications, (517) 333-1606
LANSING - Owners of plug-in hybrid electric vehicles and all-electric vehicles in Michigan are paying a disproportionate amount of fees under 2015 laws that sought to increase the amount of money dedicated to the state's transportation system, according to a new report released today. 
This week the Ecology Center released "Paying their Fair Share: The Problem with Michigan's EV Road Funding Fees and Potential Solutions," a report detailing how the laws have created disparity among Michigan drivers. The fees have a disproportionate impact on owners of EVs, and could make it more difficult for cost-conscious consumers to take advantage of the benefits of driving electric.
 "This report addresses an overlooked equity issue with the current fee structure," said Charles Griffith, climate and energy program director at the Ecology Center. "Electric vehicles should pay their fair share of transportation system costs, however, the additional fees they now pay should be lowered to a level comparable with what other efficient gasoline-powered vehicles pay."
For example, the owner of a 2019 compact Chevy Bolt pays $144 (or 62%) more on average in total transportation taxes each year compared to the owners of similar high-efficiency gasoline vehicles like the Ford Fusion Hybrid or Toyota Prius. Chevy Bolt owners also pay $64 more a year than the owner of a full-sized Ford F-150 XL, a much larger and heavier vehicle.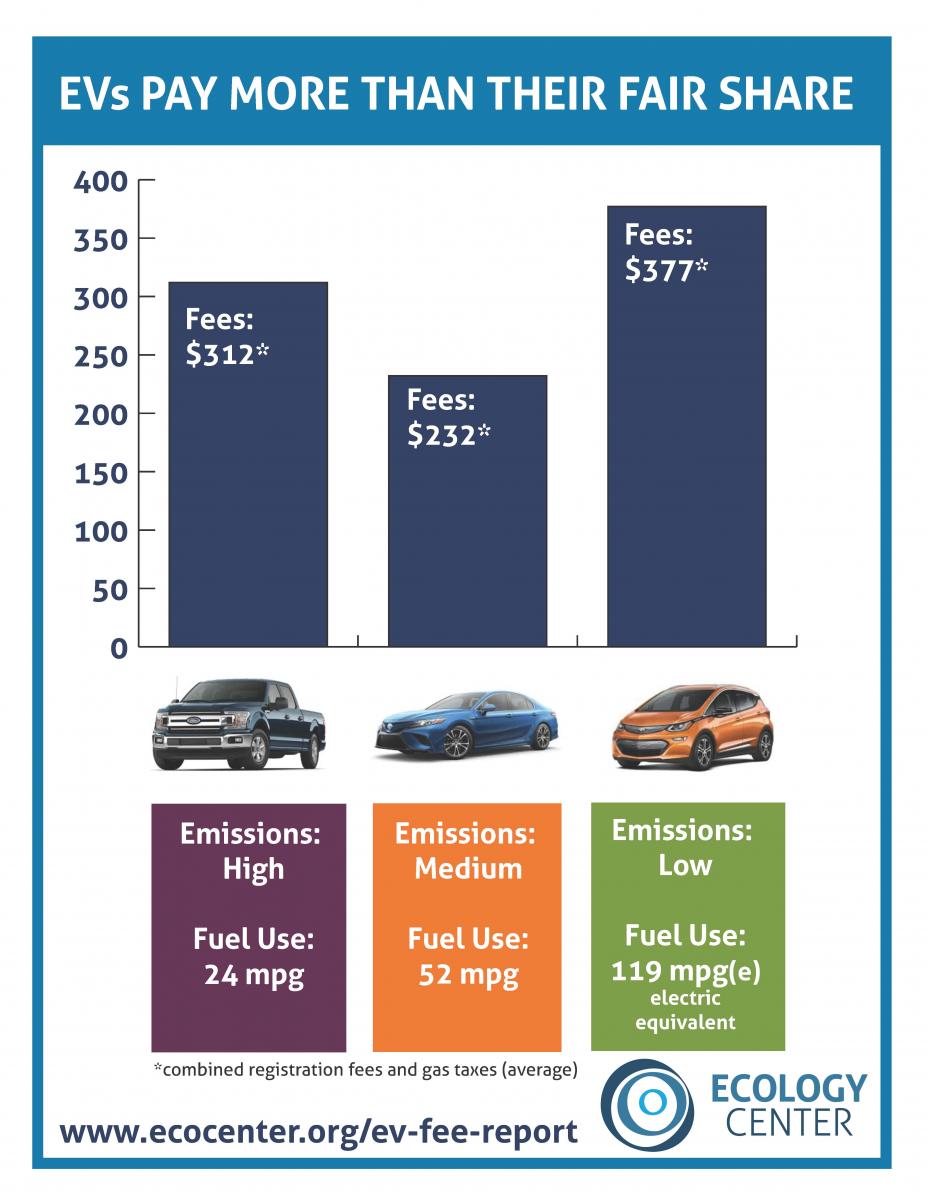 Under 2015 legislation, owners of electric vehicles were required to pay additional registration fees to help offset lost gasoline tax revenues. Electric vehicles were subject to a $135 fee, and plug-in hybrid vehicles $47.50.  However, owners of electric vehicles also typically pay higher registration fees already, based on their higher purchase price. The combination of these two fees has more than made up for any losses in gasoline taxes, the report finds.  
"The 2015 laws were based on the assumption clean energy vehicles pay little to no tax at the fuel pump and therefore should pay additional surcharges," said Mike Alaimo, executive director of Clean Fuels Michigan. "Plug-in electric vehicles can be more expensive than their internal combustion engine counterparts, however, so clean energy vehicle owners already pay higher registration fees. When you add in the EV surcharges on top of that, clean energy vehicle owners are getting a double whammy in terms of total fees and taxes."   
According to the report, the disparity in taxation between drivers of clean energy vehicles and those with internal combustion engines would increase further if gas taxes are raised in the future without an adjustment to the EV fees.  This is because the 2015 legislation included an "escalator" in the EV fees that is tied to the gas tax rate. Under a hypothetical 10 cent gas tax increase, for example, a Chevy Bolt owner would pay an additional $170 more per year, or 67% more in fees and taxes, than a comparable gasoline vehicle. In 2022, the fuel tax will be indexed to inflation, or capped at a 5% increase, whichever is least.
As Michigan's lawmakers debate the best path forward for the state's transportation system, the report calls for seeking real and sustainable funding solutions that don't unfairly penalize the growing market for plug-in hybrid electric vehicles and all-electric vehicles.  The report authors recommend in the short-run that lawmakers adjust the formula for calculating EV fees to about half the level they are set today.  
"DTE supports the deployment of electric vehicles due to the benefits it provides to all of our customers," said Camilo Serna, vice president of Regulatory Affairs for DTE Energy. "DTE believes all drivers, including EV owners, should pay their fair share for road funding. We support research and analysis to ensure the appropriate mechanisms are identified to fairly allocate charges to EV drivers. The Ecology Center's 'Paying Their Fair Share' report adds important insights to that discussion."

The report includes solutions to the problem, such as aligning total transportation-related fees for clean energy vehicles with those paid by comparable internal combustion engine vehicles. Creating a different fee structure for plug-in electric vehicles could also benefit drivers whose batteries have more limited range. 

"The state's clean energy vehicle fees should be adjusted so this disparity doesn't exist among Michigan drivers," said Charlotte Jameson, Legislative Affairs, Energy, and Drinking Water Policy Program Director at the Michigan Environment Council. "Michigan's auto industry, environment, and public health all stand to benefit by the transition to electric vehicles. We should be figuring out ways to facilitate the transition, not penalize drivers who make the switch to EVs."

"More electric vehicles on the roads will reduce dangerous pollution that affects our air, land and water," said Nick Occhipinti, government affairs director for the Michigan League of Conservation Voters. "We should not penalize those who are buying the next-generation of vehicles, which will only continue to get cleaner as renewable energy is added to the grid."  
###