Two Parks Closed Due to High Lead Levels
The Ecology Center, a Michigan-based non-profit environmental organization, was contacted by the Safe Healthy Playing Fields regarding concerns about metals and other chemicals of concern that may be in rubber shred-based poured-in-place (PIP) playgrounds and athletic fields. The Ecology Center has been conducting ongoing analysis of samples provided by Safe Healthy Playing Fields, concerned community members, investigative reporters and other interested parties.
The results of these sample sets are comparable to dozens of other PIP playgrounds we have tested over the last two years.  Rubber shred materials sampled were very heterogeneous in terms of lead levels.  Dissection of individual shreds with lead greater then 1,000 ppm illustrates that lead is uniformly distributed through a single rubber shred.  This study did not assess the fate, release rate or potential exposures from lead-containing shred.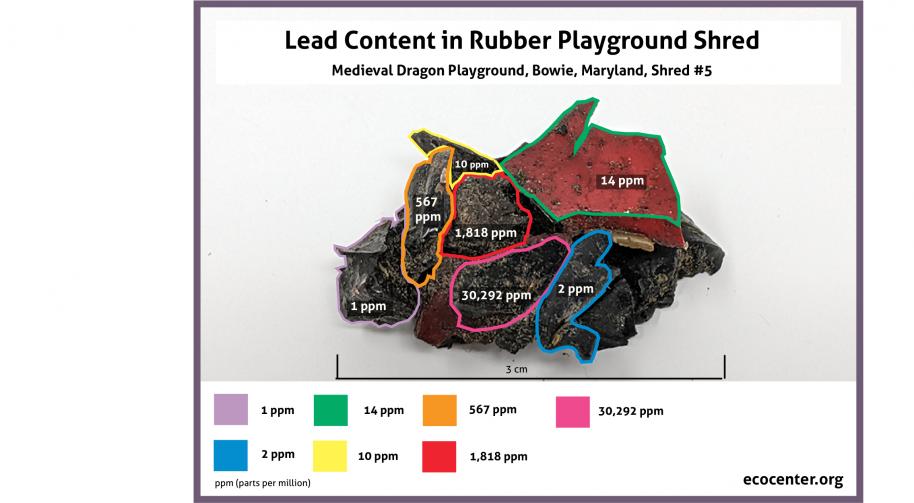 A summary of the test results from the 96 shreds is show below:
Two of the eight parks' samples had multiple individual rubber shreds with greater than 90 part per million (ppm) lead.
Medieval Dragon and Woodland Wonderland each had multiple rubber shreds with over 1,000 ppm lead.
Medieval Dragon and Woodland Wonderland each had multi-shred adhered samples which had very heterogeneous test results.  Two images are included in the Appendix to illustrate the range of concentrations found in these samples.
Dissection of several of the individual shreds showed that lead levels on the exterior and interior of these samples were identical.
Due to the limited sample size and the heterogeneous lead distribution in rubber shred, the results for the six parks with low average lead cannot guarantee those parks are lead-free.
WUSA TV in Washington DC reported on the study and the subsequent closure of the two playgrounds identified with high lead levels.
The report studied lead in poured-in-place (PIP) rubber playgrounds located at:
Medieval Dragon Playground – South Bowie Community Center,

mso-ascii-theme-font:minor-latin;mso-hansi-theme-font:minor-latin">1717 Pittsfield Lane Bowie, MD 20716.

Woodland Wonderland Playground

, 8001 Walker Mill Rd, Capitol Heights, MD 20743

Chessie's Big Backyard

mso-ascii-theme-font:minor-latin;mso-hansi-theme-font:minor-latin">, 6624 Telegraph Rd, Alexandria, VA 22310

Clemyjontri Park

mso-ascii-theme-font:minor-latin;mso-hansi-theme-font:minor-latin">, 6317 VA-193, McLean, VA 22101

Stafford Drive Park

mso-ascii-theme-font:minor-latin;mso-hansi-theme-font:minor-latin">, 3300 Stafford Dr, Fairfax, VA 22030

Helen Miller/Bernard Hunter Park

, 224 N Fayette St, Alexandria, VA 22314

RIO Washingtonian Center Playground

mso-ascii-theme-font:minor-latin;mso-hansi-theme-font:minor-latin">, 231 Rio Blvd, Gaithersburg, MD 20878

Wizard of Oz Playground

minor-latin;mso-bidi-font-family:Arial;color:black">,

minor-latin">301 Watkins Park Dr, Upper Marlboro, MD 20774