How do you picture climate change? Do an online image search for the term, and you'll see a familiar but narrow spectrum of iconography. Earth's blue and green beauty juxtaposed against fiery orange and desolate brown. Smokestacks belching plumes into the sky. Lean polar bears adrift on ice floes. The symbolic images gesture at causes to stop and effects to fear, but the process itself seems harder to capture.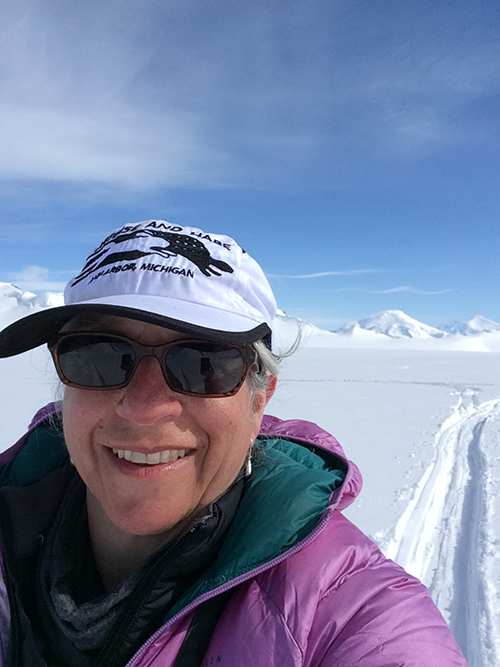 Ann Arbor artist, activist, and adventurer Leslie Sobel, 57, helps others understand what it's like to be in the middle of climate change by making what she describes as "wilderness based science-inspired art." With her deep commitment and talent, she conveys experiences that may be too remote or too slowly occurring for most to access directly. To create her most recent solo exhibition, she traveled last year to the Eclipse Ice Field in Kluane National Park, in northern Canada's Yukon Territory near the border of Alaska. As a crowdfunded artist-in-residence she joined a team of climate scientists led by professors Karl Kreutz and Seth Campbell, who use ice core chemistry, geophysics, and modeling to study glacier systems and Earth's climate history.
Leslie and the researchers braved challenging environments as they camped and worked on the icefield to understand climate change and climate history. Before she could take off on the last leg of her travel from Michigan to the icefield, a fierce wind blew the door off the tiny two-passenger airplane. Once there, camp duties included digging a fresh latrine in snowpack every few days—no small task in bitter cold and the thin air of a 10,000 foot altitude. Though the summer sun was up for 19 hours each day, temperatures dropped as low as 30 degrees below zero Fahrenheit. Bundled in many layers and two sleeping bags with a hot water bottle, Leslie slept with her camera batteries next to her body to keep them from freezing. While the researchers gathered ice samples and examined the glacier using radar, Leslie asked questions, took photographs, and journaled. Sometimes, conditions precluded outdoor work, and the crew bided time near the heat of a small stove in their shared kitchen tent.  
Leslie's work on the icefield and in the studio back home led to an installation in Ypsilanti called shifting terrain. She describes the exhibition as "diaristic," aimed at re-creating a personal and immersive sense of what it's like to be on the glacier. "I wanted to surround people with imagery so they might come away with a sense of how all-encompassing that landscape is when you are there and also to experience something that most people won't ever get to since it's a very remote place that's not easy to access." To create this immersion, she used a strategy of mixed media and varied scale. She combined photography with impressionistic and richly textured encaustic (hot wax) painting, created two and three dimensional pieces, hung large artwork from the ceiling and placed small works on pedestals for viewers to examine from above. Some works might be able to stand alone, but others come in sets, when "the idea needs multiple linked images."
Though the physical experience of being on an arctic glacier isn't reproducible, Leslie's art captures its emotional and conceptual essence—often in surprising ways. For example, she painted scenes of the vast glacial expanse in small boxes, finished naturally in a traditional Japanese method, shou sugi ban, in which the wood is scorched, wire-brushed, and oiled. Dark exterior colors set off the brilliant white of the ice depicted inside, and at the inner edges of the boxes, she chooses colors "used in Tibetan religious work - also subjects placed in high mountains." Some pieces incorporate metal leaf—a strategy she uses often in climate pieces—both for striking visual effect and to invoke legacies of religious iconography, which use precious metals on holy subjects. Just as centuries of religious artwork have sought to make the great divine apprehensible, Leslie's work approaches the wilderness as something vast and inestimably valuable: "they are pieces I consider shrines or reliquaries, and the idea behind them is that I am taking something very big and too complex to hold in one's hands and making it small enough and precious enough that one can."
She spends a long time conceptualizing her projects, which for her means an exploration process of learning about places and phenomena before figuring out the best way to present them. "I do a lot of research, reading everything from scientific papers to more popularized stuff. I think about it a lot, send a lot of emails asking questions… And then once I get in the studio and start working things evolve through a constant process of exploration and experimentation." She's found many willing collaborators: "Scientists, in general, have been extremely generous in answering my questions and suggestions additional resources. That has included people here at UM and all over the place." Even so, she acknowledges that it's "hard to take complex subjects and distill them to the visual!"
For shifting terrain, she made multiple pieces about the retreat of the Kaskawulsh Glacier and the chain reactions that have reshaped the landscape in the past two years in the wake of a phenomenon called "stream capture" or, more colorfully, "river piracy." In 2016, the Slims River suddenly stopped receiving the glacier's outflow after Kaskawulsh carved a new route through 100 vertical feet of rotten ice. As the river has dried up, Kluane Lake has also lost its main source, and its water level has dropped approximately 10 feet in two years. Leslie began preparing her glacier work six months before traveling. "I read what scientific literature there is on it, photographed the place where the glacier ends and the river changes direction from the air, and incorporated those ideas into work including multiple dimensional pieces. I've been emailing with scientists studying the flow of the two rivers and have multiple papers open right now as I wrestle with how to make art about increased and decreased amounts of water and the implications of that."
With her passion for the environment, Leslie values the Ecology Center's work to protect it and the people who live in it. She enthuses, "I am grateful for the work the Ecology Center does - we need it!" She's been intermittently active as a supporter for many years and has brought her socially engaged art to fellow supporters long before her trip to the Kluane. In 2010, she organized artists and created sustainable centerpieces for the Ecology Center's annual dinner and 40th anniversary celebration, featuring a keynote by Van Jones, a titan in advocacy for green jobs and a sustainable economy.  
We're grateful for Leslie's work, too.
Global warming's diverse and dispersed effects can make the phenomenon seem abstract. When the difference between 71 and 73 degrees on your home's thermostat feels minor, it's difficult viscerally to grasp the profound influence of global temperature changes of a couple degrees, even when you know the facts. Geological and climatological shifts may occur across tens of thousands of years, and even comparatively sudden changes take many years or decades of observation to become clearly visible. Some of the more dramatic and tangible effects occur in remote and challenging polar landscapes, where glaciers melt and rivers change course, sometimes rapidly. Though Arctic and Antarctic ecosystems represent some of the loudest metaphorical canaries chirping warning for the state of Earth's biosphere, most people never have the chance to see such places in person. Even fewer will be able to witness the process of changes there over time.
Art offers enormous potential to portray, evoke, immerse, and inspire—and it can reach people who might not follow science and policy news, or otherwise think much about climate change. Ecology Center Climate and Energy Director Charles Griffith found Leslie's exhibition inspiring for its work in bringing climate change into public consciousness. "I think what struck me the most is how art, and artists, have an important role to play in communicating the impacts about climate change," he said. "Not everyone pays attention to science, and public policy debates, but many are moved by art [such as] Leslie's visual representations of the vast glacial landscapes [she visited]."
Leslie's approach creatively engages nature, science, and culture, and she plans to continue crossing boundaries. She's gone back to grad school for an MFA in a part-remote, part-residential interdisciplinary program focused on art, ecology and systems thinking at the University of Hartford, and she's excited about where it's taking her artistically. Reading her reflections on her work and seeing the many forms her climate commitment has taken in her nontraditional artistic career, it's impossible to miss that she's a woman on a mission. She's clearsighted about what that mission is. As she describes on her website: "To make art about climate I need to experience it, be in it and see what we are losing as we do a variety of highly unhealthy things to the planet." Leslie strives to understand what's precious and at risk in the world because of climate change, and she works to convey value and share her experiences with others.
For those who want to see Leslie Sobel's work firsthand, it's currently on display at Gallery 117 at the Ann Arbor Art Center, Terra Gallery in Dublin, OH, and Sleeping Bear Gallery in Empire, MI. She also has a solo show titled Icefield Memories upcoming this fall at the Jewish Community Center of Greater Ann Arbor. The JCC exhibition's opening reception will be Sunday Oct 28 from 4-6pm, featuring an artist's talk by Leslie, and the show will be up through November.  You can also learn more about her work, see pictures of shifting terrain, and read more about her travels in the Yukon on Leslie's website, on  her blog, "painting with fire," and in this piece she wrote for ProWax Journal.