The pandemic has made it more complicated, but not less important.
by Elizabeth Harlow
For Recycle Ann Arbor Curbside Driver James Lipford, the thing he likes best about his job is the community he serves. He especially values when people tell him and his colleagues how much they appreciate the work.
As Lipford heads out on his regular daily route, he says that "being safe as possible" is the major challenge on his mind. He and his fellow staff now wear PPE including masks and gloves to work, sanitize trucks and radios each shift, and maintain a social distance of at least 10 feet. At most stops, he operates a mechanical arm to lift and tip carts efficiently, without having to interact with anyone or to touch anything outside the cab of the truck. However, in a location where spacing is tight or where there's loose clutter, it might be necessary to stop, get out, and handle a cart manually. Though surface contact poses a much lower risk of COVID-19 transmission than person-to-person interaction, RAA staff are taking every precaution and have figured out the best ways to maneuver carts without touching handles.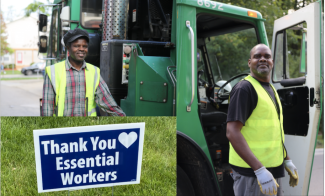 "We have a service to provide, and that's not optional," says Bryan Weinert, Director of Strategy at RAA. "Our frontline workers have truly stepped up, day in and day out. This is a scary time. I'm so grateful for workers that are dedicated and willing to be out there, and I especially want to give credit to employees for their central involvement in developing safety protocols to best protect themselves and the larger public. The result has been outstanding--really detailed and thoughtful." 
Lipford and RAA's other frontline workers perform labor that is critical on multiple fronts. Like other sanitation workers, recycling workers keep our homes and streets from very quickly becoming unpleasant and even unsafe due to accumulating waste. Uniquely, recyclers also keep "waste" from being wasted. That work is vital for the long-term health of our planet, and it's also vital for the short-term functioning of what the U.S. Department of Homeland Security deems the "Critical Manufacturing Sector."
Without recycled materials, many manufacturers of essential products would see their supply chains radically disrupted, causing immediate shortages followed by higher prices in the wake of a pivot to virgin material. The Institute for Scrap Recycling Industries reports that 70% of steel and stainless steel produced in the U.S. is made from recycled scrap, and so is 50% of aluminum. More than 75% of U.S. paper mills use some degree of recycled paper, and some depend on recycled paper for 100% of their feedstock. And the toilet paper and tissues everyone's been scrambling for since March– 58% of the feedstock used to produce it comes from recycled fiber, and manufacturers are scrambling for as much as they can get.
The critical role of recycling in the supply chain sometimes goes underappreciated. Federal government guidelines and those of many states, including Michigan, specifically designated recycling as critical infrastructure allowed to continue through the strictest phases of stay at home orders. However, some cities and counties across the country have temporarily suspended service or sent regularly collected recyclables to landfills and incinerators, facing a combination of COVID-related staffing and economic pressures.
Recycling infrastructure in Michigan has been more affected by the pandemic than many other states. Major disruptions included the notable temporary closure of three materials recovery facilities in Emmett, Kent, and Isabella Counties as staff fell ill and as organizations confronted a lack of appropriate PPE. Additionally, the statewide restriction placed on bottle redemption, which will resume June 15, has had bottles and cans piling up--an estimated 70 million of them every week.
As a mission-driven nonprofit, Recycle Ann Arbor is proud of its ability to continue operations safely and successfully through the pandemic, thanks to the commitment of its workers and the surrounding community. If you live in Washtenaw County, rest assured: RAA has not only continued curbside collection, as it has since 1978, it also continues to process those household and commercial recyclables as usual and to successfully market 100% of the recyclable material collected to be made into new stuff.
RAA has also begun to reopen facilities to customers with new safety provisions. The Recovery Yard reopened May 4 and the Drop Off Station reopened May 25. Measures to prevent the spread of COVID-19 include required masks and social distancing, cashless payment, and temporary limitations on some accepted items. Recycle Ann Arbor is encouraged by our community's commitment to recycling safely, even when it has involved patience in these extraordinary times: June 1 brought the Recovery Yard's all time record for customers. Like most retail outlets, the ReUse store remains closed for shopping for the time being.
As for the logistics of what's happening with the collected recyclables themselves? The pandemic has shifted both where waste is generated and, in some cases, also where materials go. 
With businesses closed, commercial collection volume has plummeted. At the same time, with people at home and ordering more of what they need for delivery, the residential stream of recyclables has spiked. RAA has seen a 3% increase in residential tonnage collected over the past three months. The percentage may sound small, but that's almost 100 tons. For curbside drivers, it means overflowing carts at some collection stops, especially multi-family homes. In some cases, it's also meant dealing with extra contamination in the form of "wish-cycled" carryout containers, masks, and gloves.
For the most part, however, the volume and quality of the supply stream of recyclables remains steady enough, and the demand is there, too. All those delivery boxes and toilet paper rolls are adding up. RAA is commanding higher than usual prices for corrugated cardboard and office grade paper, as well as mixed paper and tissue. "The 'Amazon effect' is being seen," says Weinert, "and the demand is high." The demand and price for mixed plastic recyclables, on the other hand, has declined in response to the dropping price for crude virgin oil.
COVID-related safety concerns have exacerbated existing economic ones for the recycling industry at large. China's National Sword policy of 2018 closed off a major market for low-quality recycled material, making it more economically urgent for the U.S. to fix its waste problem, including revitalizing recycling at the local and regional level and reckoning with a national throw-away culture.
Recycle Ann Arbor has been encouraged by what's been accomplished here. Last year, RAA enabled our community to divert 13,878 tons of waste from landfills, preventing greenhouse gas emissions equivalent to the annual operation of 6,710 cars and the annual energy use of 2,670 houses. This year, RAA is looking forward to finalizing the contract with the City of Ann Arbor to rebuild the region's Material Recovery Facility or MRF. A MRF is the hub of any community's recycling program.  It can be a spark for regional economic development; a source of good local jobs; the key component in recycling education programs; and the guarantee that the environmental benefits of recycling actually get realized. 
None of it could happen without frontline workers collecting and processing materials. Let's celebrate their essential work.
Recycle Ann Arbor is a non-profit subsidiary of the Ecology Center.