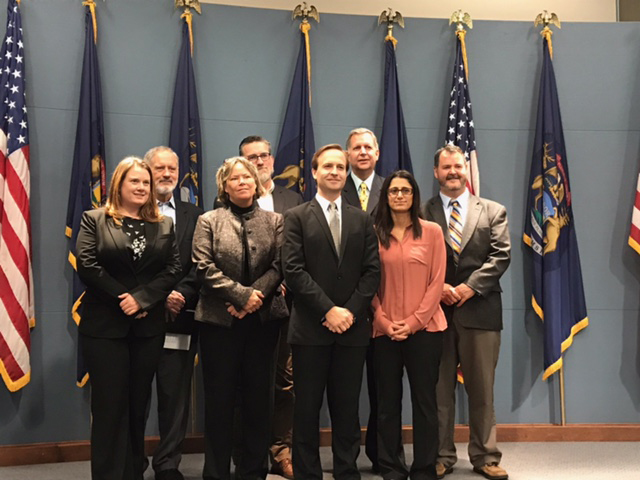 The Governor's Child Lead Poisoning Elimination Board Announces Recommendations to End Lead Exposure
Nov. 17th, 2016.  Lansing, MI – Today the Ecology Center joined physicians, public health advocates and the Snyder Administration in unveiling a new report called A Roadmap to Eliminating Child Lead Exposure created by the Child Lead Poisoning Elimination Board. In June of 2016, Governor Snyder created the Child Lead Poisoning Elimination Board by Executive Order to address childhood lead poisoning in Michigan. Seven medical, public health, and policy experts, including Ecology Center Deputy Director Rebecca Meuninck, were appointed by Governor Snyder to serve on the Board, which was chaired by Lt. Gov. Calley. "We board members quickly agreed that addressing lead poisoning in Michigan was insufficient," said Rebecca Meuninck, Ecology Center deputy director. "We decided to tackle lead exposure in our state because there is no safe level of lead."
The Board's Roadmap focused recommendations in five key areas with a focus on both primary and secondary prevention strategies.
Testing of children for elevated blood lead levels;
Follow-up monitoring and services, including case management;
Environmental lead monitoring and investigations;
Remediating and abatement of lead hazards; and
Dashboards and reporting of data.
The Ecology Center is supportive of the recommendations and Roadmap as a whole. Several key recommendations would shift lead investigation and abatement efforts to focus on primary prevention or preventing exposure to lead before it happens. "Right now we are still using children as lead detectors in homes," said Meuninck. "This Roadmap calls for a paradigm shift to investigate homes, schools, and daycares for sources of lead exposure and to remediate them before they poison a child."While there will be economic costs to remediating lead paint, plumbing and contaminated soils the costs of remediation were put into context with the high costs of lead poisoning in Michigan. According to the Ecology Center's recent report, Costs of Lead Exposure and Remediation in Michigan: Update, child lead exposure cost more that $270 million dollars a year from associated decreases lifetime earnings, increased adult crime and juvenile delinquency, special education, and healthcare costs.
"We have the knowledge and tools in Michigan to end lead poisoning and this Roadmap is a critical first step on that path," said Meuninck. "Ongoing efforts must be continue to be coordinated, swift, focused on primary prevention, as well as prioritize action for low-income areas and communities of color where exposure rates are the highest."