Retired cancer doctor, Ecology Center Health Leadership Fellow alumna, and environmental health champion Elaine Chottiner discusses PFAS public education and legislative advocacy: "I think it's really important to have physician input. Issues with air, water, and the environment are intricately tied to issues of hematology and oncology."
By Elizabeth Harlow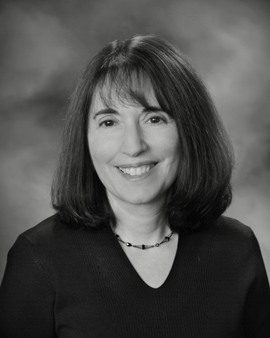 "When I talk with legislators," Elaine Chottiner says, "I start by saying 'I am an oncologist.' They stop and they listen." She knows that as a physician, she has credibility when she speaks about health. "People trust doctors because they interact with doctors. There's a bond and an intimacy between physician and patient that you don't have with a public health person or an epidemiologist."
She spent decades treating patients as an oncologist and hematologist, and she knows all too well what it's like to share scary news in a small room. Usually, she says, the first question a patient asks upon learning they have cancer is "why?" How did I get it? Was it something I did? Something in the environment?"
In different rooms, Chottiner now reminds Michigan lawmakers of the vital connection between present decisions and future consequences: "I'm sitting here and telling you that someone will be having this conversation with your children."
When Chottiner retired, she was itching for ways to continue making a contribution, so she decided to apply for the Ecology Center Health Leadership Fellows program. She says the HLF experience helped her direct her medical expertise and apply other skills in new kinds of advocacy and outreach.
"Much of my career was spent caring for people with diseases related to occupational, environmental, and lifestyle exposures," she says. As a hematologist and oncologist here in Michigan, she's observed firsthand the effects of routine exposure to toxic chemicals, often seeing men who worked in the auto industry, particularly paint shops, coming to her with bone and blood diseases like leukemia.
Though she'd done advocacy in Washington, DC for to increase disease-related research funding in the past, she says Advocacy in Michigan has been a real eye-opener in term of the need for health professionals to speak directly to lawmakers and educate them on the impacts that toxic chemicals have on Michigander's health.
She was distressed by the lack of understanding present in the legislative and public discussion of cancer and toxic chemicals, particularly in the conversation that has recently exploded around toxic PFAS chemicals. These slippery "forever chemicals" don't break down in the environment, are widely used for their nonstick properties, and are associated with endocrine disruption, some cancers, and reproductive and developmental problems.
"Everybody is saying PFAS causes this and causes that, is associated with this and with that, and I don't think people really understand epidemiology. I wanted to make the conversation more academic."
So she read up. And after digging deep into the medical studies to fully understand what we know about PFAS, she got to work sharing what she learned.
A lively communicator as well as a rigorous researcher, Chottiner knows how to share medical information in a memorable way. To drive home a point about the underappreciated effects of PFAS on reproductive health, she makes it personal by connecting these issues to lawmakers' own families and lived experiences.  This personal touch drives home important facts that might otherwise be lost in a laundry list of bad stuff, like the speedy legal disclaimer rattled off at the end of a pharmaceutical ad.
She's created PFAS fact sheets to help people understand how these chemicals affect their homes and lives: "PFAS and Your Health", "PFAS and the Huron River Watershed," and a handout for legislators to distribute at town hall meetings.
"To let somebody walk out with the information is very powerful," Chottiner says, even more so when it points them to the Ecology Center. "Everyone says, 'if you have concerns, talk with your physician' but your physician probably doesn't know anything about PFAS."
"The advocacy and the research that the Ecology Center provides is so important in a system where the government organizations that are supposed to protect us--like the EPA and FDA--don't protect us until people identify the needs. Nothing happens until advocates start identifying problems and put the process in motion--and advocate and fight for it, to make regulatory bodies act."
Chottiner's work is starting to pay off, with wide ripple effects. "Now when we go into talk, legislators are asking better questions," she says. She has led other Health Leaders Fellowship participants lobbying for lead and PFAS protections in Lansing, and she's excited for next steps to include physician education. 
"Before Elaine's fact sheets, there were very few available resources that were science-based and succinct," says Rebecca Meuninck, Ecology Center Deputy Director. "Her background health knowledge is so helpful, and she's always willing to step up. She's become a go-to volunteer in our efforts to protect people from PFAS and lead exposure." State lead standards still miss reproductive health dimensions, even with new protections implemented in the wake of the Flint water crisis.
 "There is still no regulation on PFAS right now," Chottiner reminds. This is the norm for most chemicals. "It was shocking to me how poorly done the corporate studies were. The requirements to get something out to market are absolutely minimal. Nearly anything can get on the market, and really the only way to get something off the market is through advocacy." 
With so much work still to be done, she says, "I want to encourage people, especially retired people, to remember and know that they have something to contribute."