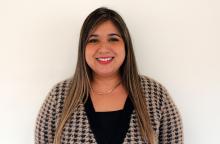 The Ecology Center's ​​Regional Environmental Health Organizer, Meli Garcia, provides her perspective.
This fall brings unprecedented progress toward ending childhood lead poisoning in Michigan. A set of lead poisoning prevention bills have been reviewed by the legislature. These policies include universal testing of all children at ages one and two years old, installing water filters in all of Michigan's daycare centers and schools, and giving the state enforcement over the federal Renovation, Repair and Painting Act. Both the universal testing and filter first bills have been signed into law. 
The Ecology Center has been working to remove lead from our homes and environment for almost five decades. We are elated to see this long-overdue progress. 
Our regional environmental health organizer, Meli X. Garcia, works tirelessly alongside the Great Lakes Lead Elimination Network (GLLEN) to end lead poisoning through lobbying and education. But Meli's advocacy work isn't just a vocation – it's personal, too. She was exposed to lead as a child through her bedroom windows and suffered fatigue, brain fog, and trouble concentrating.
Lead has been found on toys, in paint (in homes built before 1978), in the soil, in the water, and in other consumer products. 
Lead is especially dangerous for children. According to the Centers for Disease Control, lead can cause "developmental delays, difficulty learning, behavioral issues, and neurological damage." There is no healthy amount of lead exposure for children.
Lead poisoning is a public health issue that has persisted for decades. In this interview, we shine a light on Meli's lead advocacy work, her personal experiences with lead, and the advice she has given the public on what we can do to make things better.
(This interview has been edited for clarity and length.)
Why is lead advocacy work important to you? 
Lead advocacy work is extremely important to me because it should not exist any longer. It's been over 70 years since the poisoning first started in the United States due to lead paint. Although we have seen progress, we need to see a final end to all lead poisoning! It's very damaging to our children and family's health. We need to ensure the safety of our children and be the voice for them. It can cause ADHD, neurological issues, nerve damage, concentration issues, lower IQ, and behavioral issues. 
Although we have seen progress, we need to see a final end to all lead poisoning!
Do you have a personal connection to this work? What motivates you to continue in it?
I do have a personal connection. I was exposed to lead as a child. I had to consume a high vitamin C-rich diet and an iron-rich diet. My symptoms were fatigue, brain fog, irritability, and not being able to concentrate in school. I was exposed through lead-chipped paint in my bedroom windows. This exact problem persists today. 
How did you get involved with lead advocacy work? 
I got involved with lead advocacy work in September of 2022. I was drawn to helping in the efforts to end lead poisoning at a regional and policy level. I also have had the opportunity to hear the stories and work directly with those families directly impacted by lead poisoning.
I am motivated to continue to work with lead issues because children and our families deserve to live a lead-free life.
This is a big, multi-part problem. What do you believe needs to happen to solve it? Is solving it possible, or is progress the best we can hope for?
We need to pass policies that help protect our children. We have to reach lawmakers and strive to pass current lead legislation that provides filtered drinking water and universal testing for our children. We have to get to the source of the problem, which is lead paint! 
My goal for lead advocacy work is to speak with lawmakers and help educate them on the Ecology Center's lead priorities. The Ecology Center and its lead allies have been working on getting filter first and universal testing bill* packages to pass. I want to help push for those! I also want to help our GLLEN members connect and work together regionally to end lead poisoning. 
(GLLEN is a coalition of non-profit organizations in the Great Lakes states working on solutions to end lead poisoning.)
*Universal testing of toddlers for lead and the filter first policy were signed into law in fall 2023. 
 How does working on lead advocacy make you feel?
I understand that passing legislation takes time. Lawmakers are bombarded with several policies they need to move. We are just one piece of the public health puzzle. I get excited because we have a lot of caring regular people, health professionals, and, of course, the Ecology Center, who are being the voice for our children.
The only way to make real change is to change the mind of lawmakers and keep advocating to move and pass lead legislation, otherwise old bad policies will continue to harm our children.
What can community members do to help? 
Community members can get their children tested for lead. They can test their homes for lead as well. They can also call their lawmakers and urge them to pass current lead legislation. For those who have been directly impacted by lead poisoning, they can testify and share their story with the local press.
Get Involved
In 2021, Michigan ranked 3rd in a nationwide assessment of blood-lead levels in children; 78% of children who were tested had lead in their blood. Learn more about the Ecology Center's lead advocacy work here.