Note: Car seats are required by law for children riding in vehicles and are essential for crash safety. Please, always properly install and use a car seat for a child, regardless of any chemical concerns.
Children's car seat companies have made significant achievements in reducing children's exposure to toxic chemicals. In the last five years several have done exactly what the Ecology Center has advocated for, including screening their products for hazardous chemicals to hold suppliers accountable and adjusting their designs to make fire retardant-free seats.
Despite these successes, more than half of U.S. children's car seats still contain hazardous chemicals such as flame retardants (FRs) or per- and polyfluoroalkyl substances (PFAS). A number of FRs are known endocrine disruptors, while some PFAS are likely carcinogens and immune disruptors. The potential hazards of many FRs and PFAS in use remain unknown. FRs and PFAS both can come off fabrics, migrate out and build up in dust. Children and adults are exposed through breathing and ingesting dust, as well as skin contact.
The Ecology Center's Healthy Stuff Lab tested over 600 components of 25 car seats, including three seats from the European Union and 22 from the United States. For the first time, we also tested four strollers that came bundled with matching car seats. Infant and convertible seats from 11 different brands were tested for FRs and PFAS using three different analysis techniques.
Additionally, we compiled information about the status of FR-free and PFAS-free seats in the marketplace via company websites and conversations with company representatives.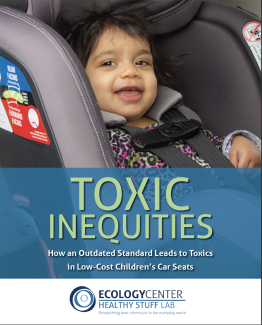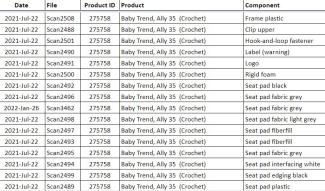 Report Highlights
The number of seats without flame retardant chemicals has grown.
We found over 40 car seat models–from eight companies–marketed as FR-free. This is up from eight seats from four companies in 2018. Two companies, Britax and Maxi-Cosi, offer FR- and PFAS-free seats for $200, a lower price than had been available for an FR-free car seat in the past. Additionally, Maxi-Cosi recently released an FR- and PFAS-free convertible car seat for $130.
Flame-retardant-free seats are still cost prohibitive.
There are currently no FR- and PFAS-free infant or convertible car seats sold in the U.S. for under $100 and just one model for $130. Because of this, families looking for the most affordable children's products largely bear the brunt of toxic chemical exposure.
An outdated U.S. federal flammability standard is unnecessarily exposing lower income children to toxic chemicals.
In the United States car seat companies must meet a federal flammability rule written for vehicle interiors by the National Highway and Traffic Safety Administration. Because it's cheaper to add FRs to a product than use expensive fabrics to meet the standard, the most affordable car seats in the U.S. still contain FRs. As a result, children from lower income households are likely to bear a greater impact of toxic chemicals than children from families who can afford expensive car seats.
Many car seats sold in the U.S. still contain flame retardants, although the types of flame retardants have changed.
Testing revealed that while car seat companies have eliminated a number of well-known toxic FRs, they are often switching to phosphorus-based FRs whose toxicity profiles are mostly unknown. Overall, 55% (12 of 22) of tested U.S. seats contained flame retardant chemicals in major components. All 12 of these seats contained phosphorus-based FRs in the upholstery. Two of these seats additionally contained elevated bromine in the upholstery and seven also contained elevated bromine in rigid foam under the upholstery, consistent with brominated flame retardants. In total, 32% (7 of 22) of the seats had major components with high levels of bromine. Brominated FRs are bioaccumulative and are linked to developmental toxicity. Aside from the major components, many of the seats contained phosphorus-based FRs or high levels of bromine in minor components such as labels and interfacing.
European Union child car seats have fewer flame retardants than U.S. seats due to a different flammability standard.
Car seats purchased in the E.U. did not contain phosphorus-based FRs even when similar U.S. seats of the same brand did. This is likely due to the nations' different flammability standards. The E.U. recently implemented a standard called EN 71-2 to replace the 50-year-old standard still used in the U.S. However, some of the E.U. seats had elevated bromine, suggesting FRs in certain components.
Strollers contained no flame retardants even when the identical fabrics on their matching car seats contained flame retardants.
None of the four strollers we tested contained bromine or phosphorus-based FRs even when the matching car seat in the set contained those chemicals. These findings indicate that companies add FR chemicals only to meet the U.S. federal flammability standard for car interiors and do not add these chemicals to other children's products.
Some car seats and strollers use PFAS for water and stain resistance.
21% of tested car seats (4 of 19) had water- and stain-resistant fabrics likely containing PFAS, based on testing for total organic fluorine. Of the four strollers, two had likely PFAS, as did their matching car seats. In private conversations, some companies have confirmed they use PFAS treatments on certain models. We urge car seat companies to stop using PFAS and instead make car seat and stroller covers easy to remove and wash.
Three major companies have yet to release an FR-free seat and still contain PFAS.
Graco, Evenflo, and Baby Trend sell some of the most affordable and popular children's car seats. They also had the lowest ranked seats in the study due to FRs and PFAS in their seats. Graco, Evenflo, and Baby Trend do not offer any FR-free seats.