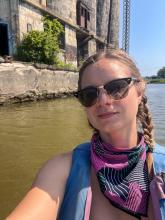 Buffalo, New York
Hi, I'm Thea, and I live in Buffalo, NY. Both my city and state have fairly robust recycling laws, but I still ran into plenty of plastic woes. 
Day 1 – Zero Waste to Wasteful Eating 
I am a fully remote employee. This morning, I worked from my favorite local bakery/coffee spot, Five Points Bakery. Rooted in sustainability and community, they served me no disposal of plastic, a feat in today's single-use world. My glass of water is glass. My coffee cup is ceramic. My plate and cutlery are all real dishware. During the pandemic, many coffee shops and restaurants transitioned to single-use, and many seem to have stayed that way. But not here.  
I did drive and thus "consumed" plastics on my way over. Tires are responsible for about ~30% of microplastics in the environment. Plastic particles from tires also enter the air, which we breathe in. And because my car is electric, the battery makes the vehicle even heavier than a petro-car, meaning I burn through tires even faster than the average bear. I can attest to buying A LOT of tires in the five years that I've owned my electric vehicle.  
Like a raccoon wandering the forest for a meal, at lunch time I wandered the city in search of food to eat. My next stop is Buffalo's only co-op grocery store, the Lexington Co-Op. Everything in the store is wrapped in plastic. I have been so overwhelmed and annoyed by the amount of plastic that I've been trying not to shop here anymore, but it's difficult as it's the only small grocery store with local foods and superfluous vegetarian options. Wegman's is a better bet on waste generation, and I usually try to go there instead. But this store is the most conveniently located, so, alas, here I am, with a trash-wrapped meal in hand.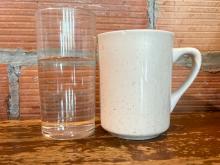 In the evening, I made dinner with my boyfriend. Our head of cauliflower was wrapped in plastic, but the rest of the vegetables and ingredients were not. He doesn't compost, and I felt guilty throwing our vegetable remnants in the garbage. It is fairly easy to compost in Buffalo: We have city-sponsored drop-off spots, or you can pay a small fee (~$120/year) for curbside pick-up. I compost in my backyard and turn the soil to keep the pests away. It's not working; I spotted a possum rummaging the pile the other day. 
Day 2 – Biking in Smoke, Exacerbated by Climate Change
Today, I biked to work in the terrible air quality index due to the wildfires, compounded by the downtown vehicular air pollution. In New York, we have decent laws on the books to minimize air pollution: Vehicles are required to pass an annual inspection, which includes an emissions test, and we have anti-idling laws for heavy-duty vehicles. We've invested a lot in building an electric vehicle network, and there are many rebates available for buying an EV. We also have a city, county, and state complete streets policy, which requires that every time a road is paved or reconstructed, all types of travel methods must be considered. This is a nice policy, but it is better implemented on the local level and rarely by the state Department of Transportation (DOT) due to their need to maintain "level of service" for motorized vehicles. Complete streets not only encourage more people to walk, bike, and use transit, they also improve local economies and public health, including fitness, happiness, and air quality. 
So, this morning, as I biked down a state-managed road, a four-lane highway splitting downtown and my neighborhood, with the smoke hanging heavy in the air, I cursed the DOT once again. Not only does it suck to bike on because it's scary and stressful, it sucks to walk down, too, and it borders an area with lots of foot traffic. It also exacerbates the poor AQI. 
You are probably wondering why I am talking about transportation when I'm supposed to be talking about plastics. To me, the problems in plastic pollution and the American transportation system are a two-headed beast, with the body being the petrochemical industry. Nearly 10% of the oil and gas extracted in the world is used to make plastic, and that number continues to rise. And our transportation sector is another huge consumer of oil and gas. Most cars are made of plastic and, again, create a significant amount of microplastics. Both our plastic consumption choices and our mode of travel choices impact the planet and climate and harm people and communities. Though, of course, individual choices alone will never be enough to solve either problem. We need top-down change in the form of local, state, federal, and even global policy. 
In the evening, I stopped to get some groceries. We have a plastic bag ban in New York, so I brought my own reusable bag. If I hadn't, I would have had to pay 10 cents for a paper bag. Or, oftentimes, the store leaves cardboard boxes around for people to use. The lettuce I bought was plastic-wrapped, the rest of my veggies were not. The dressing was in a rigid plastic container which irked me as the brand usually offers glass. But it was a discount store, and I had to take what I could get. 
Day 3 – No Consumption
Today, I consumed no plastic. I went to yoga at 7 am and considered stopping at Starbucks on the way home and walking around the Olmsted-designed Delaware Park to look at the birds, one of my favorite morning activities. But the thought of the disposable cup (plastic lined) and disposable lid, and my not-so-disposable money dissuaded me. I went home and made a cup of coffee instead. 
Day 4 – Prolific Plastic at an Environmental Event 
I spent the weekend at a training with Cornell Cooperative Extension to kick off my accreditation to become a master naturalist in New York State. There was evident consciousness about waste reduction, but it was minimal. All of our lunches were served in plastic containers, either plastic clamshells or black plastic with a clear top. The cutlery (which I reused all weekend) was labeled compostable, but I doubt it was. Either way, it was wrapped in a plastic film, and there were no compost bins (even if something is compostable, it must be composted in order to deteriorate). Our lecture room was directly across from a kitchen with an industrial dishwasher, so I was disappointed we couldn't use real cutlery. The irony was evident as we discussed microplastics in the Great Lakes and their tributaries, and how one thing you could do to minimize plastic pollution is to stop using single-use plastic. If only.
I also went to an art festival and got food from a food truck, Tiny Thai. It was served in a plastic container (rigid black plastic bottom with clear top). I didn't check the number, but I know black plastic cannot be recycled. I doubt the top will be recycled either, but I put it in the recycling bin regardless. We call this wishcycling. I wish it could be recycled. I was happy the event had ample recycling bins, so I could at least recycle my beverage can. This is due to a city policy that requires any special event to have both trash and recycling bins. 
On Sunday, I went to the Finger Lakes to continue cleaning up my scrapyard, an acre-wide mess my father made in the throws of an elongated mental health episode. I have a dumpster for trash, and a bus for collecting metal, and I have recycled anything that's obviously recyclable. This mostly-rural area only recently got curbside recycling, and the pick-ups are still quite limited, so I usually stow the recycling until I have time to drop it off at the recycling center 25 minutes away. What has struck me during the cleanup is the dumpster was filled almost completely with, you guessed it, plastic. In this case, it was the plastic remnants of cars (bumpers, etc.) and random plastic objects strewn across the yard. 
Day 5 – A Plastic Win: Divest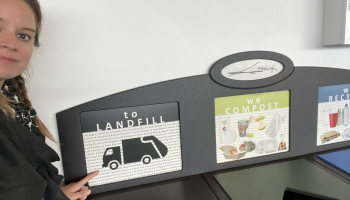 Today, I had a plastic win! My congregation, the Unitarian Universalists, are hosting a general assembly in Pittsburgh in two weeks. At the assembly, all gathered will vote on a business resolution that calls for the immediate divestment of our combined $249 million endowment from all fossil fuels and the institutions that fund them, and reparations to impacted communities in the amount of what was invested at the time of the proposed business resolution (~$13 million). My congregation has agreed to vote in favor of the resolution!   
Again, 99% of plastics are made of fossil fuels. Plastic production infrastructure is rapidly expanding in the US – according to the Center for International Environmental Law, more than $164 billion in investments in planned for 264 new facilities or expansion projects.
The divestment is obviously a hot-button issue, as the larger institution insists this will be certain death for their endowment. Investments in fossil fuels have typically yielded a high return. But, of course, it's about much more than that. If it passes, the resolution signals a huge shift in the power dynamic within the institution, founded in America in 1793, and forces the organization to be held accountable for past harms. It also puts our stated values into action and encourages us to truth test them, which is challenging. Many people don't think this is the right time for such a significant transition; others feel it is well overdue. 
Day 6 – Plastic Frustrations
After work, I had planned to bike to the park to watch a concert with my friends, but the storms came, and our plans were canceled. Instead, my boyfriend and I biked to a small brewery to play board games. The brewery is octopus-themed and I love it, and there was no plastic in sight, which also delighted me. 
After, we stopped at an Indian restaurant for take-out. When I put the order in, I said, "hold the plastic, please!," but as the man wrapped up our food, he put a plastic bag around the paper bag while he asked us about not wanting plastic. Le sigh. New York's bag ban doesn't apply to restaurants, and it's a damn shame.