An Interview with Holly Groh of VerdiGras, who wrote a children's book based on the Ecology Center's research 
Every March, Mardi Gras produces 2.5 million pounds of trash – including bead throws, trinkets, and doubloons that are characteristic of the celebration. New Orleans resident Holly Groh, M.D. saw this accumulation of trash over her lifetime and decided to act. She envisioned a character, the Smirch of Mardi Gras, who loves the celebration so much that he becomes overridden with greed, eager to fill his own pockets with stuff – the wares of Mardi Gras that ultimately end up in the landfill. The character inspired Dr. Groh to write "The Smirch of Mardi Gras," a book which illustrates the true fabric of the Mardi Gras festival, a celebration of love and community. With help from the rest of the family, Dr. Groh's daughter, Maggie Groh, illustrated the book, and it has become an entry point for kids and adults alike to get involved in reducing Mardi Gras waste. 
Beyond authoring "The Smirch," Dr. Groh formed an organization called VerdiGras in 2011 with her husband and friends. VerdiGras' mission is to inspire Mardi Gras participants to reduce their waste from the festival. They spread awareness around the issue and work on all aspects of Mardi Gras' waste prevention.
After forming VerdiGras, Dr. Groh partnered with Jeff Gearhart, Research Director at the Ecology Center, to explore the toxic components of beads. Our Healthy Stuff Lab found that 70% of the tested beads contained high levels of bromine, and 33% of the samples contained lead at levels higher than the United States has set the standard for children's products. (As a result, we recommend children and adults keep Mardi Gras beads out of their mouths and always wash their hands after handling the beads.)
We had the opportunity to talk with VerdiGras founder and author Dr. Holly Groh about her work spreading the word about Mardi Gras waste. 
(This interview has been edited for clarity and length.)
As we know, you wrote this touching & beautifully-illustrated book called "Beware of the Smirch." Can you share how this story came about and what inspired you to write it?
We started our group VerdiGras following the BP oil spill, which happened just after we had lost our home to Hurricane Katrina. My husband's family had been going to the same place for Mardi Gras for 50 years, but the trash just kept building up in that place over that time. 
After the BP oil spill, it was really poignant to see the Mardi Gras throws in the trash because Mardi Gras throws are largely made out of petroleum-based products.
Despite all the oil that was in the Gulf, there was no change in the number of throws in the landfill, and it was just sickening to those of us who had lost our homes in Katrina. You realize during the experience of losing your home that you don't need much stuff at all. 
Mardi Gras is not a holiday that is all about stuff – it's about the experience. 
VerdiGras initially tried to reach adults, but I was interested in including the kids. For me, it was great to see the kids become so creative when I gave them the opportunity to think. I decided it'd be so much fun to have a book that would teach them while they're still young that we take care of the earth. And that we don't need all this stuff to have a great holiday, especially because it wasn't part of the holiday to begin with. It has been a pleasure to read to children and then get their follow-up afterward. Our daughter illustrated the great majority of the book with some help from our other two children, and that was fun to have them included.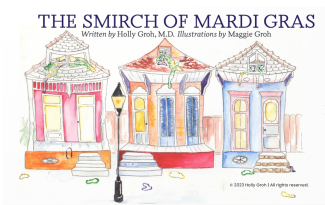 Have you always had an affinity for writing children's stories? If not, what was the process of jumping into that storytelling role for the first time? 
I do everything with spirit as my source – and I found the ideas and the words of this book to be a gift that I could offer about this subject. I'm thrilled to be able to take it to the kids. 
You formed VerdiGras in 2011 with the mission of reducing the waste footprint of Mardi Gras. Can you tell us about the formation of this organization and what work you all do?
We formed after the BP oil spill because a group of my friends and my husband believed in our hearts that we just didn't need all this stuff, especially because Mardi Gras waste is tremendous. We did not want to be the people with the solutions, but we wanted to represent the people that celebrate Mardi Gras. We found that people, even folks that are very steeped in the business of Mardi Gras, recognize that waste is an issue in these celebrations. It's just a matter of somehow changing that whole paradigm. 
My mom used to say it was like we were standing on the edge of an ocean liner and trying to push it back into the river to go out to sea – it was gonna take a lot of us, but we should give it a try. So far, we've done everything we could with just a sense of fun and a goal to educate and to get educated whenever possible. The data on this issue is just nauseating to us, but I've found we can come to solutions by shining a light on what's going on.
Your book is inspired by research by the Healthy Stuff Lab at the Ecology Center that found that Mardi Gras beads contain high levels of toxic chemicals such as lead and bromine. How has this work inspired your storytelling?
When we first started VerdiGras, I, as a mom of four, knew that there had to be some kind of toxin in the beads because you can just smell petroleum. I wouldn't have known at the time that it was a petroleum smell, but just some chemical you need to keep out of your children's mouths. 
At first, I was just able to find that there was lead in the beads. But then somebody told me that there's a man, Jeff Gearhart, from the Ecology Center that will take your beads and analyze them. 
And I just thought this man fell from heaven. I was like, who are you? He explained that many of the recalls of the toys from China that I would hear in the news were done at his lab. So he's a hero of mine. 
He took the beads, did electron microscopy, analyzed them, and found that there is lead, cadmium, and arsenic in many of the beads. It was so interesting to us that you can't tell from one bead throw to another which one has the toxins in them. From the studies, Jeff said it looks like they're melting down computer boards to make the beads, which sounds great, but really those are endocrine disruptors. 
This is anecdotal, but I started hearing about kids that had no exposure to lead in their homes but would have high lead levels from playing with Mardi Gras beads. It was really important to me to get the news out since I'm a mom and a medical doctor. Many people treat Mardi Gras like it's an adult holiday, but it is largely a family holiday. The beads are generally thrown to children first, so it is easy for them to get exposed to these toxins.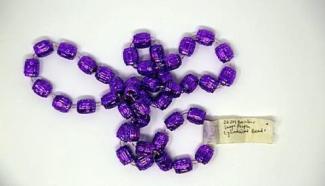 Your book has been published for over two years now – what has the reception been like from your community? 
This book is self-published because the message of this book is to have local sources. Our friend David Redmon is the documentarian for "Mardi Gras: Made in China," which shows how the production of Mardi Gras goods happens in China. Many of the Chinese workers have their hands in vats with nothing to help their lungs, and after finding out what the content of the beads is, it's alarming to see this, especially since they are getting paid a pittance. 
When you're at Mardi Gras amongst the festivities, you don't think about who is making all of the stuff and what their life is like. I'm telling you this because it pushed me to get the book printed locally. With the pandemic, however, the paper for printing books went to toilet paper production, so we had to wait until this last December to get it printed. We are proud it is on USA paper and printed here in town. 
So far, I've read to one school, and I think there were like 124 kids – it was so much fun. I've only been able to read at one school because of the pandemic when I wasn't allowed to read in person. I've also done a lot of work to help protect kids against digital devices, so my message focuses on face-to-face interaction. When I was able to go read, we all had a wonderful time, and I got to hear the kids' observations. It's really eye-opening to see what the kids understand about this issue.
What advice would you give parents and children who are excited about Mardi Gras, but are wary of waste accumulation and toxic chemicals?
Pass the book along to your krewe (Mardi Gras group) as just a fun way to introduce the ideas from the book. The family and the kids can save all their throws to be used to reduce waste, or they can decide to make beads. I'd advise families to act with their pocketbooks; don't support the accumulation of stuff. My parents came to see Mardi Gras in the 1960s and 1970s, and the beads were made out of bamboo. You can think out of the box! 
We lived in Maui for a year, where they make their leis out of greens, and they are gorgeous.
It's more about the connections that you make and the voice that you have to say, "We don't need all of this stuff." We love being with each other and having fun – just be careful of the beads.
There are no corporate sponsors for Mardi Gras, so everybody who rides on a float does that out of the generosity of their own pocketbook, which is really sweet. The intent is very sweet, so we just have to remember that the footprint of this stuff is enormous, and most of the beads end up in landfills. 
Mardi Gras isn't the only time and place where beaded throws get passed around. What action steps would you suggest to families or individuals who want to contribute to making a change in their community around toxic waste like this? 
Vote with your pocketbook and remember that all of us have a voice. - Dr. Holly Groh
Just, again, vote with your pocketbook and remember that all of us have a voice. I study ancient teachings for health, and I learned in Hawaii from our friend who's native Hawaiian that everybody in this world has their unique voice, and we need to put it out there. If people want to make a change and take care of the earth, that would be really positive.