A new report from VICE shows how a serial polluter in Michigan poisoned a family farm; the Ecology Center's research suggests this is a national crisis.  
A beloved 100-year-old cattle farm in Livingston, Michigan, has ceased operations after state officials found PFAS pollution contaminating the grains, groundwater, and livestock. VICE recently covered the story, showcasing how a serial polluter devastated the livelihood of a Michigan family. The report also includes the Ecology Center's research on PFAS in sewage sludge made from biosolids, showing widespread PFAS contamination in sewage sludge.  
As outlined in Vice's report, farmer Jason Grostic unknowingly contaminated his cattle with PFAS with tainted municipal wastewater sludge spread as fertilizer for his feed. Unfortunately, he didn't know that the city of Wixom's wastewater system contained PFAS directly from Tribar Manufacturing. Tribar is a Michigan company that uses PFAS to make metallic-looking plastic parts for auto companies.
Tribar is also responsible for contaminating the Huron River and the City of Ann Arbor's public drinking supply with PFAS in 2018 and for last year's release of hexavalent chromium, shutting down the river for weeks with "no contact" orders.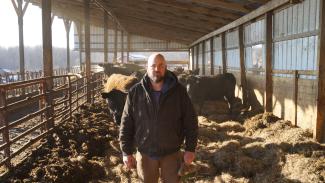 After state officials discovered the contamination, Grostic Cattle Co. was issued a seizure notice and told no animals or meat could leave the farm. 
The state has also told the Grostic family they are the only farm with a PFAS contamination crisis, but farmer Jason Grostic doesn't buy it. 
"I can't be the only one. I'm not the only one who has taken biosolids in the state of Michigan laced with PFAS," Grostic told Progressive Farmer. "When you start looking at PFAS and the industry it's in, there's a factory in every town. So where is it all?"
We don't buy it either. In 2021, the Ecology Center and the Sierra Club looked at PFAS in fertilizer products made from sewage sludge. We found these "forever chemicals" in all nine products tested. Maine has already taken action by banning the spreading of sewage sludge as farm fertilizer due to PFAS contamination in 2022.
Though the state has been helping with feed costs and buying some cattle ready for market (to send to a landfill), the Grostic's farm has been left with fields full of PFAS, no income, cattle still needing tending, and no answers, as experts don't know how to remediate the soil. 
Whatever can be done to clean up the farm is expected to be expensive, and Grostic is suing Tribar Manufacturing to cover the costs of his incredible loss. 
PFAS contamination of sewage sludge is a widespread, serious problem, and polluters like Tribar Manufacturing must be held responsible. The state of Michigan has failed to take any meaningful action against Tribar despite its terrible history of environmental crimes. The Ecology Center has called for Michigan's Department of Environment, Great Lakes, and Energy (EGLE) and the state legislature to take action to eliminate the use of hexavalent chromium, a source of PFAS, for plating in Michigan. California recently banned the use of hexavalent chromium.
Alongside the Great Lakes PFAS Action Network, the Ecology Center encourages the state to develop a financial safety net for farmers affected by PFAS in their water or soils. Other states, like Maine, have created funds to help farmers lessen the load of the financial burdens when PFAS are discovered. Our policy agenda for Michigan and the Great Lakes region outlines further steps needed to turn off the tap on PFAS for good. 
Join GLPAN's newsletter for updates on PFAS contamination across Michigan and the Great Lakes.
The VICE Special Report will air Thursday, June 1, at 11 pm on Vice TV.