It is summer again! In Michigan, that means warm weather, ice cream parlors, music festivals, and gearing up for the legislative session this fall. This year, we are poised for future-changing progress toward clean energy and cleaner air and water. After years of pushing for equitable clean energy policy, our current state legislators are ready to act. 
We're tracking multiple bills this legislative term beginning August 22, 2023, that will help reach our goals: 
100% Clean Energy
Transitioning to reliable, 100% clean, renewable, equitable energy is vital for our state to achieve the carbon emission reduction goals of the Governor's MI Healthy Climate Plan. This transition will protect the health of communities across Michigan by reducing pollution from dirty sources of energy and ensure our children have a healthy, liveable future. 
Cutting Costs and Curbing Waste
We can reduce costs to consumers by making significant investments in energy efficiency, and with affordable, reliable clean, renewable energy, which is cheaper than coal and natural gas. Promoting cleaner electric vehicles and fuels that reduce our dependence on fossil fuels for transportation saves consumers and the state money while reducing waste. 
New Jobs for New Technologies
We have an opportunity to create thousands of good paying jobs building clean energy technologies and batteries and by weatherizing our homes and businesses to make them more energy efficient.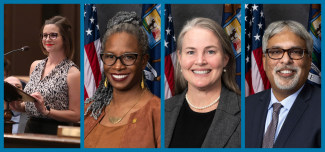 Stay Tuned and Be Ready to Act!
As the term nears and the bills progress, be ready to act. We will need your support to ensure Michigan's clean energy future. 
Save the Date!
On Tuesday, September 26th, 2023, please join us for a day of action at the Capitol in Lansing. The Ecology Center staff and its coalition partners will join to demand clean, equitable energy. But, to make sure we are heard loud and clear, we need to show up in numbers. If you are able, bring your family and friends to rally for Michigan's healthy future. Register here. 
Bills in Progress
Here are the bills that have been proposed in the Michigan Legislature. These were discussed for the first time in hearings at the end of June by the respective House and Senate Energy committees. The committee chairs have promised to bring these bills back in the fall to work on them upon their return from summer break. 
| | |
| --- | --- |
| Bill Number | What's Here? |
| SB 271 | Requires that we reach 60% renewable energy by 2030 and 100% carbon-free energy by 2035. As of July 2023, Michigan's current renewable energy requires only 15%. This is a big step in the right direction. Also, right now, burning waste and trees counts as "green." This bill changes the rules so they can't count things that are harmful to the environment and the surrounding communities as green.  |
| SB 272 | Increases the power of the Michigan Public Service Commission to regulate electric and energy companies. Power companies would not be able to raise rates without telling consumers. It also gives the commission the power to enforce the rules.  |
| SB 273 | Upgrades the Clean and Renewable Energy Waste Reduction Act. It limits the state's energy waste to a maximum of 2% of energy sales. Doing this will save consumers money on future electric bills.  |
| SB 274 | Requires that construction companies use methods to build new homes and businesses that reduce carbon (e.g., LEED certification). It is much cheaper to ensure new buildings are more efficient than to go back and renovate them later.  |
| SB 275 | Requires that transportation fuels become cleaner and less carbon-intensive over time. |
| SB 276 | Requires that energy companies transition out of burning coal to create electricity.  |
| SB 277 | Allows farmers to use their land for solar farms without losing farming incentives.  |
| HB 4759 | Gradually transitions energy in Michigan to renewable energy (solar, water, or wind), requiring us to be 100% renewable energy by 2035. |
| HB 4760 | Changes how energy is regulated with the goal of keeping energy affordable and safe for the community and the environment.  |
| HB 4761 | Requires utility companies to do a better job reducing waste with specific goals that they have to meet in order to qualify for incentives. It also gives consequences to companies that don't meet those goals. Utility companies are also not allowed to pay for these changes by charging consumers more.  |