Still Cooking: An Update on Toxic PFAS in Cookware Products
Following the release of our 2020 report, "What's Cooking? PFAS and Other Chemical Hazards in Nonstick Cooking and Baking Pans," many people asked about the nonstick GreenPan, a favorite of celebrity chef Bobby Flay and of many home cooks. To answer their questions, the Ecology Center's Healthy Stuff Lab tested the coatings of four pans made by: Bella Basics, GreenPan, Scanpan, and Zwilling. All four pans carried claims such as PFOA-free and PFAS-free.
We found two pans, Scanpan and Zwilling brands, were coated with PTFE, even though they both claimed to be PFOA-free. Our testing results from GreenPan and Bella Basics, however, were consistent with the products' marketing claims of PFAS- and PTFE-free, respectively. Both the GreenPan and the Bella Basics pans were coated with a silicon dioxide-based ceramic.
In both 2020 and 2021 we found some product claims to be misleading; possibly causing consumers to purchase a PFAS-coated pan when they think they're buying an alternative.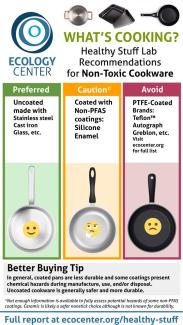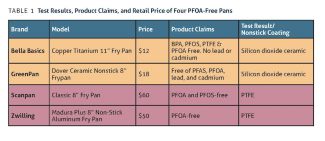 Products Tested & Results
Product Name
Chemicals Detected

Distributor

Sensio Inc.

Brand

Bella Basics

Test Method(s)

FTIR Polymers

UPC

829486147029

Bella Basics Copper Titanium 11" Fry Pan Ceramic Nonstick
Silicon dioxide

Distributor

The Cookware Company (USA), LLC

Brand

GreenPan

Test Method(s)

FTIR Polymers

UPC

885837025040

GreenPan Dover Ceramic Nonstick 8" Frypan
Silicon dioxide

Test Method(s)

FTIR Polymers

UPC

83421450203

Scanpan Classic 8" Fry Pan
PTFE fluoropolymer

Distributor

Zwilling J.A. Henckels

Brand

Zwilling

Test Method(s)

FTIR Polymers

UPC

35886361518

Zwiling Madura Plus 8" Non-Stick Aluminum Fry Pan
PTFE fluoropolymer