A new study by the Ecology Center's Healthy Stuff Lab found some cookware manufacturers still use toxic coatings on their nonstick products, despite claims that their pans are free from certain PFAS chemicals. Claims of "PFOA-free" or "PFOS-free" might sound inviting when shopping for a nonstick pan. (PFOA and PFOS are two of the most commonly-known PFAS chemicals poisoning our waterways.) But many pans that tout those claims are nevertheless coated with PTFE-- a PFAS plastic better known by its original trademark name, Teflon. 
Still Toxic
Our recent analysis is a follow-up to our 2020 report, "What's Cooking? PFAS and Other Chemical Hazards in Nonstick Cooking and Baking Pans." In both 2020 and 2021 we found some product claims to be misleading; possibly causing consumers to purchase a PFAS-coated pan when they think they're buying an alternative. Additionally, certain alternatives to PFAS-coatings may also be hazardous. We found undisclosed BPA-based coatings on two baking pans and one cooking pan tested in 2020. 
PFAS, deemed "forever chemicals," persist in the body and environment. Though some PFAS have been banned or phased out of use, many remain in production. The Ecology Center published two supply chain case studies in 2020 that found PFAS were emitted into the environment at several points along the supply chain. Manufacturing processes produce waste streams that may flow to the surrounding water, soil, and air. This pollution often doesn't stay put, but travels and spreads, compromising clean water in many communities.
The Healthy Stuff Lab's 2021 Cookware Update 
Following the release of our 2020 report, many people asked about the nonstick GreenPan, a favorite of celebrity chef Bobby Flay and of many home cooks. To answer their questions, the Ecology Center's Healthy Stuff Lab tested the coatings of four pans: GreenPan and three other nonstick pans with claims such as PFOA-free and PFAS-free.
We found two pans, Scanpan and Zwilling brands, were coated with PTFE, even though they both claimed to be PFOA-free. Our testing results from GreenPan and Bella Basics, however, were consistent with the products' marketing claims of PFAS- and PTFE-free, respectively. Both the GreenPan and the Bella Basics pans were coated with a silicon dioxide-based ceramic.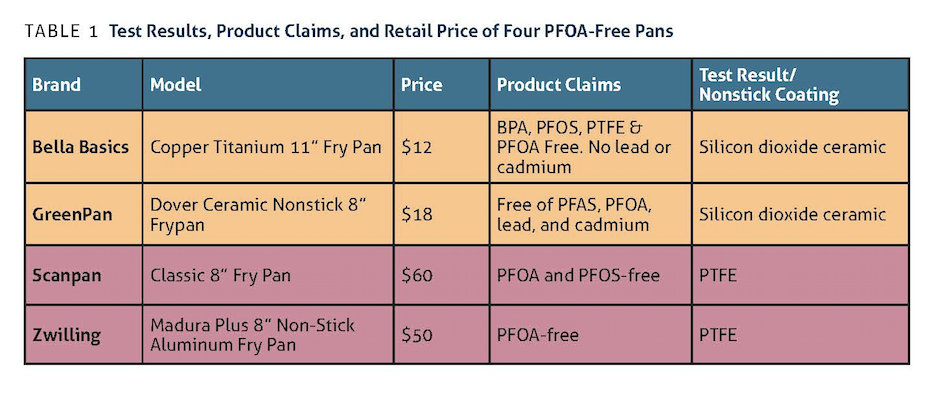 Misleading Marketing Claims 
Zwilling hides PTFE in the coating. Zwilling's website did not mention PTFE, other than to say their "...coating is 40 times more durable than traditional PTFE coatings." Aluminum is listed as the "substance" for the product. "PFOA-free," granite, and titanium are mentioned throughout the product's description. A consumer may find it challenging to understand their coating contains PTFE. ​​For example, their online description notes: 
"The 4-ply Duraslide Granite non-stick coating with titanium hard primer ensures increased abrasion resistance, while the aluminium core in the base of the pan ensures optimal heat distribution over the entire base." "...these PFOA-free pans are exceptionally durable."
Scanpan reveals PTFE but claims it's safe. Scanpan's product page lists "Recycled cast aluminum construction" and "Stratanium nonstick surface" and "PFOA and PFOS-free" as key features. If digging deep on the Scanpan FAQ, one will find the below explanation: 
"While our pans are PFOA and PFOS free, they DO contain some PTFE. PTFE is the base compound for all true nonstick coatings, it is what provides the nonstick release."  
Scanpan's website states PTFE is harmless to ingest, while also acknowledging PTFE coatings break down under excessive heat.
PTFE coatings, however, have not been proven safe to ingest. Additionally, PTFE coatings require a production process that pollutes air, drinking water, and food around the globe with extraordinarily long-lasting and toxic chemicals. And when PTFE-coated pans are thrown away, they are incinerated or landfilled, both options presenting additional hazards.
New Legislation
States: California and Maine
The State of California just passed and signed into law the California Safer Food Packaging and Cookware Act, which requires the disclosure of the use of PFAS and bisphenols (BPA, BPS, etc.) and other toxic chemicals in cookware. Additionally, the CA Safer Food Packaging and Cookware Act bans the misleading claims on cookware that we found, such as "PFOA-free"when the product contains other PFAS chemicals. The new legislation also applies to the claim "BPA-free" when other bisphenols (such as BPS) have been used. The first component of the bill goes into effect in January 2023 and requires cookware manufacturers to list designated chemicals, such as PTFE (and other PFAS) and BPA, present in their products on their website. This list of chemicals will appear on the product package a year later.
Earlier in 2021, Maine became the first government in the world to ban all PFAS chemicals from products sold in the state by 2030. Manufacturers must disclose to state officials if their products contain PFAS by 2023. 
These two state laws could lead to more transparent manufacturing marketing claims and more PFAS-free products for people living in every state.
Federal
U.S. Representative Debbie Dingell (D-MI) introduced the PFAS Action Act of 2021, sponsored by Fred Upton (R-MI) and 25 other members of Congress. The bill calls for national drinking water standards to regulate two PFAS chemicals, PFOA and PFOS, and possibly others. The bill will classify the two chemicals as hazardous substances and hazardous air pollutants, allowing contaminated sites to receive Superfund status. Additionally, it would enact discharge limits in wastewater, ban unsafe incineration of PFAS waste, and create a voluntary label for PFAS-free cookware. 
Clean Cooking Recommendations
PFAS, PFOA, PFOS, PTFE: these are confusing acronyms and easily misunderstood by many consumers. Our research found many pans coated with PTFE are labeled as "PFOA-free" and sometimes "PFOS-free," claims that may be misleading, even if they are technically true. PFOA-free does not mean PFAS-free. In fact, a nonstick pan that says "PFOA-free" but does not also say "PTFE-free" or "PFAS-free" likely contains PFAS.
A ceramic-coated pan like Bella Basics or GreenPan is one option to avoid PFAS in cookware. However, the coating may eventually lose its nonstick properties or become chipped. A longer-lasting option the Ecology Center recommends is uncoated pans made from cast iron or stainless steel. In summary, we suggest: 
When buying new cooking pans, consider uncoated pans, such as cast iron or stainless steel.

If you have PTFE-coated nonstick pans, do not use them on high heat (temperatures greater than 260℃ [500℉]) and do not let them boil dry.

Beware of marketing claims such as "PFOA-free." This does not mean PFAS-free. Look for "PTFE-free" or "PFAS-free" instead.
What else can you do?
●      Check Green Science Policy Institute's list of PFAS-free products.
●      Avoid other products that may contain PFAS, such as:
○      Waterproofing and stain-proofing sprays for furniture, clothing, shoes, and more. The spray droplets may be harmful. Case studies of acute lung disease following waterproofing spray use can be found in the medical literature.
○      Stain-proof or water-resistant clothing, carpet, and camping gear.
○      Ski waxes and automotive waxes. PFAS-based waxes shed hazardous chemicals into the environment. Non-PFAS waxes are available. 
Ask your U.S. Senators to support the federal PFAS Action Act of 2021

If you are in Michigan, ask your State Senator and Representative to support Senate Bill 591(introduced by Sen. Irwin) and House Bill 5250 (introduced by Rep. Rabhi), legislation that would ban toxic PFAS, BPA, and phthalates from the manufacturing and sale of food packaging in Michigan. 
For more information on PFAS-containing cookware and bakeware, view our 2020 report, "What's Cooking? PFAS and Other Chemical Hazards in Nonstick Cooking and Baking Pans."