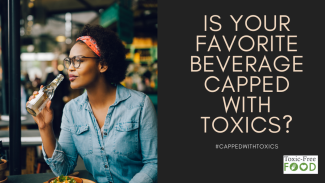 Executive Summary
Testing of the plastic liners from beneath nearly 300 bottle caps has revealed that many glass-bottled beverages may be capped with toxic chemicals that could expose consumers to harm and contribute to environmental injustice. The plastic liners (known as cap gaskets) are used to seal metal bottle caps to the rim of glass bottles.
In our testing, the plastic cap liners from fifty beverage brands, or more than one-third of the brands tested, contained ortho-phthalates, a class of chemicals of high concern known to harm reproductive health and brain development in babies and young children. Three phthalates were identified in bottle cap liners: DEHP, DINP, and DIDP. Studies have shown that phthalates can migrate from cap gaskets into food and beverages when used in cap gaskets on glass containers. The chemicals may also leave a residue on the rim of the bottle that's washed down as you sip your favorite beverage, and pollute the environment when discarded.
Of the beverages tested, those with the highest use of the worst beverage brands phthalates in their bottle cap liners were soda (55% with phthalates in bottle cap liners), organic products (41% with phthalates), smaller company brands (41%), and kombucha (40%).
Overall, the cap liners from ninety-four brands, or nearly two-thirds of the brands tested, were made of polyvinyl chloride (PVC or vinyl), which has been dubbed the "poison plastic" due to toxic hazards created across its lifecycle during production, use, and disposal. Vinyl plastic requires large amounts of chemical additives known as "plasticizers," such as ortho-phthalates or relatively safer and less toxic alternatives, to keep the plastic soft and pliable. These plasticizers makeup about 40% of the vinyl plastic by weight and are continually shed into their surrounding environment.
Of the beverages tested, vinyl plastic was most frequently found in the bottle cap liners from ready-to-drink coffee (100% of brands tested) and tea (84% of brands tested), juices and juice drinks (82% of brands tested), and brands purchased at dollar stores (75% of brands tested).
Beverage packaging is an environmental justice issue because people of color are already disproportionately exposed to phthalates from all sources in general, and tend to consume more sweetened beverages and beverages from dollar stores, both of which in our testing showed frequent use of more toxic bottle caps.
In good news, nearly one-third of the brands (59) tested "clean." They use cap gaskets made of non-vinyl plastic, which is more environmentally sustainable and requires no plasticizers at all, preventing all exposure to phthalates or their alternatives. Several market leaders have recently transitioned to phthalate-free cap liners, including Brew Dr Kombucha, Whole Foods Markets, Keurig Dr Pepper, and Maine Root, and are in various stages of transitioning to non-vinyl plastic in their beverage packaging, too.
Fortunately, safer alternatives to both vinyl plastic and ortho-phthalates are widely available. Six non-vinyl plastics, which require no added chemical plasticizer, were found in use in bottle cap liners. In cap liners made of vinyl plastic, four safer alternatives to ortho-phthalates were identified in use as a plasticizer (ATBC, DEHA, DEHT, and ESBO).
The Toxic-Free Food Campaign strongly recommends that all beverage brands immediately end any use of ortho-phthalates in cap liners and transition to a non-vinyl plastic as soon as practicable. In fact, after January 1, 2022, beverage packaging containing ortho-phthalates can no longer be lawfully sold in the State of Maine.