HIDDEN PASSENGERS:  Chemical Hazards in Children's Car Seats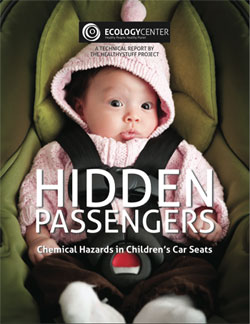 Executive Summary
Fifteen car seats from 2014 representing twelve brands were tested for known flame retardant chemicals and heavy metals. Key findings are as follows:
No car seats were free of chemical hazards
Despite efforts by some companies, chemical flame retardants are still used to make car seats meet federal flammability regulations. Eleven out of fifteen (73%) seats contained halogenated flame retardants. Four seats contained one or both of the "chlorinated tris" chemicals TDCPP (a known carcinogen) and TCPP.
While one seat was analyzed for a more limited set of chemicals, the other fourteen seats were analyzed for a wide range of known flame retardant chemicals. Of these fourteen seats,
64% contained brominated flame retardants (BFR).
29% contained chlorinated organophosphate flame retardants (CFR).
64% contained non-halogenated organophosphate flame retardants (PFR). 
No polybrominated diphenyl ethers (PBDEs) were detected in any of the seats.
Hazardous heavy metals were detected in very few samples.
Chemicals used are associated with the material type
More than half of the polyurethane foam samples contained halogen-free organophosphates. About a quarter of the polyurethane samples contained chlorinated organophosphates. Both classes of phosphates were very uncommon in the other foam types and textiles.
More than half of the expanded polystyrene foams contained a brominated flame retardant chemical. Several of these were hexabromocyclododecane (HBCD), a chemical slated for global phase-out under the Stockholm Convention.
Three of the four expanded polypropylene foams contained no known flame retardants. Expanded polypropylene can meet automotive fire test standards without added chemicals.

Five textile samples were analyzed; all contained brominated chemicals.
Safer Substitution is important
Some car seat companies are moving away from halogenated flame retardant chemicals and replacing these with phosphate-based chemicals. We support the efforts of companies to remove halogens, but we caution that some of the halogen-free phosphates may present significant health concerns as well and require more study.
Green design works
The best approach is to redesign the product to eliminate the need for hazardous chemicals. Britax and Clek, for example, have implemented green engineering solutions that reduce the need for added flame retardants. We challenge car seat companies to develop seats without any added flame retardant chemicals. We also recommend that companies:
Develop a comprehensive chemical policy for suppliers to restrict chemicals of concern in all products. These policies should be reevaluated and updated on a regular basis.
Evaluate each material component to eliminate chemical flame retardants wherever possible. When chemicals must be added, choose the least hazardous of the non-halogenated options based on the most current available research.
Flammability regulations must be updated
The federal fire test standard is demonstrably outdated and does not provide meaningful fire safety for vehicles in general or for children in car seats. For regulators, we recommend:
The federal fire test standard for vehicles, FMVSS 302, be updated to reflect causes of fire in modern cars and to minimize or eliminate the need for chemical flame retardants. In this report we outline several strategies to prevent and suppress vehicle fires. An updated fire test standard should require these non-toxic fire safety strategies.
We also urge regulators to consider making child car seats exempt from FMVSS 302.
Consumer friendly product ratings, as well as a shorter overview and consumer guide, are available.