PFAS is a Great Lakes Issue 
The Great Lakes have always been special to the people and wildlife who know these waters as home. The inland lakes, rivers, and streams that flow into the Great Lakes are important ecosystems and are critical parts of our communities.
For thousands of years people have interacted with and depend on these watersheds. Whether as a source of drinking water, opportunities for recreation, or bringing home a fresh-caught fish for dinner, people in the Great Lakes region intimately know and love our fresh water.
It's why when the state of Michigan issued a Do Not Eat the Fish advisory in 2018 for parts of the Huron River everyone who used the river wanted answers. People questioned what the advisory meant for fishing and recreation, which fish species and fishing locations were contaminated, and what exactly were PFAS.
Per and polyfluoroalkyl substances (PFAS) are a class of thousands of toxic chemicals widely used in manufacturing and consumer products. PFAS are highly effective at making products resistant to water, oil, and stains. PFOS and PFOA are commonly found types of PFAS. Unfortunately, they are also highly toxic and don't break down in the environment.
PFAS are everywhere in the Great Lakes watersheds and have been found in many species, including algae, amphipods, zebra mussels, round gobies, chinook salmon, lake trout, whitefish, smallmouth bass, carp, mink, eagles, frogs, and snapping turtles.
These "forever chemicals" are linked to certain types of cancers, reproductive harm, and reduced vaccine effectiveness.
In the case of the Huron River, a chrome plating facility that manufactures shiny coatings on car parts and other items discharged PFAS chemicals into the river. Four years later the fish consumption advisory still stands in many parts of the river. In addition, other contaminants like mercury, PCBs, and dioxin in fish have also triggered fish consumption advisories in the Huron and Rouge watersheds.
While these standards remain critical, the more equitable and permanent solution is to eliminate PFAS and other chemical contamination so advisories are no longer needed.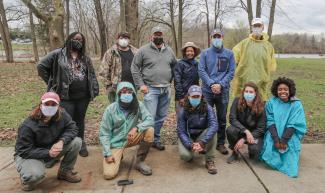 Subsistence anglers are particularly at risk for PFAS exposure 
Because PFAS chemicals don't break down in the environment they can accumulate in the fish people eat. And, for many anglers fish harvest and consumption are about more than just food. There are significant cultural practices for sport fishers and subsistence anglers, and fish harvest is an essential part of Great Lakes Native American cultures. 
PFAS pollution is not new – we've known about it for decades. However, the research and understanding of how this chemical class affects our waterways, wildlife and human health is still emerging. Though much research is underway, there remains much to understand, and communities affected by PFAS contamination are standing up to be part of the solution. They are creating their own research questions, learning how to collect samples, and generating their own data.
Using Community-Based Science 
This project is an effort to better understand how PFAS affects the Huron and Rouge watersheds, wildlife, and our own health. We aimed to better understand which parts of the fish PFAS are accumulating and where in the watersheds PFAS are concentrating. In 2022 six local anglers partnered with the Ecology Center, the Huron River Watershed Council, and Friends of the Rouge. 
We approached this project using a community-based science model. This model values the lived experiences and expertise that community members bring to research happening in their own communities.
Community members took part in designing the research questions, collecting samples for the study, processing the fish, and discussing the results and education strategies for fellow anglers. 
Together, we collected over 100 fish from 15 sites along the Huron and Rouge river. We tested for 40 different PFAS chemicals from a variety of species including bluegill, pumpkinseed, rock bass, smallmouth bass, catfish, and river chub.
During the project the state of Michigan issued a fish consumption advisory for parts of the Rouge River after additional samples showed elevated levels in certain fish. Even with the Rouge's long history of industry and pollution there have always been anglers catching fish on the Rouge. People who depend on our local watersheds for nutrients and subsistence will continue to fish. As a result, it's important for everyone using our rivers – especially subsistence anglers – to know how to reduce their exposure to PFAS. 
While there is still much we don't know about how PFAS affects fish health and the ecosystems they need to survive, what is clear is that PFAS contamination is a complex, long-term problem that requires the people most impacted to help inform science and health-based solutions.
AADL Summer Game Code: REALFISHYCHEMICALS
Watershed Maps of Whole Fish Testing Results