After Tribar Manufacturing spilled PFAS into the Huron River in 2018, Michigan's Department of Environment, Great Lakes and Energy (EGLE) sampled fish filets (muscle) in the Huron River for 11 different PFAS chemicals. Studies like these have focused solely on fish filets because that is the part of the fish most commonly consumed by people. 
In order to understand the broader ecological impact of PFAS in the fishery, our study analyzed whole fish for 40 different PFAS chemicals. Based on other studies, we know that the total PFAS concentrations are typically 2-3 times higher in whole fish than filets. Using these ratios we were able to approximate the likely PFAS level in just the filets of our fish. 
Our results showed: 
PFAS are still in every fish we tested in both rivers 
14 different PFAS chemicals were detected in the study. Each fish tested had at least one of the 14 chemicals in its body. Only two of the 14 PFAS are regulated in MI. 
PFOS was found in every fish tested. PFOS accounted for 58% (Huron) and 46% (Rouge) of the PFAS content of the fish. PFOS is one of the few regulated PFAS chemicals but is still widely found because it doesn't break down.
Range of PFAS found in whole fish: 
Rouge River: 11 to 59 parts per billion (9 fish) 
Huron River: 12 to 133 parts per billion (11 fish) 
PFAS in fish filets: 
Estimated highest filet concentrations were 47 ppb for Huron, and 12 ppb for the Rouge 
These levels are above the levels at which the State of Michigan advises limiting consumption to two (Huron) and 12 (Rouge) meals per month. 
The state currently issues DO NOT EAT fish consumption
Huron River
The results from our research show overall lower levels of PFAS in Huron River fish than in 2018. Unfortunately,  PFAS are still found in every fish we tested in the Huron River.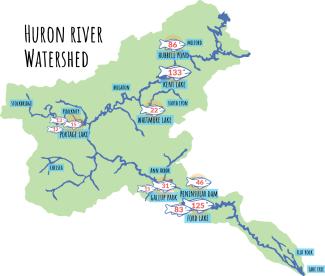 Rouge River
There is growing concern about high levels of PFAS in fish in the Rouge watershed. Though, Rouge water and fish testing has been more limited than the Huron River. Unlike the Huron River, a major point source of PFAS being released in the Rouge River has yet to be identified. 
On the Rouge River, PFAS levels in fish had not previously been high enough to trigger fish consumption advisories. However, in 2022 the Michigan Department of Health and Human Services (MDHHS) issued a DO NOT EAT advisory for certain fish due to high levels of PFOS. The advisory includes bluegill and sunfish from the Rouge River's Lower Branch and the Main Branch from the Ford Estate Dam to the Detroit River.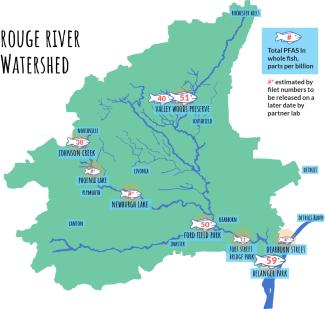 Download 2022 Whole Fish Test Results from Huron and Rouge Watersheds