Almost all cat food cans (95%) had a PVC-based coating and most dog food cans (81%) had a BPA-based coating.
A summary is displayed in Table 1. The frequencies of each coating type add up to more than 100% for dog food cans and for cat food cans because some cans contained more than one coating type.
Table 1: Coatings Detected in Dog Food and Cat Food Cans
| Food Type | Number of Cans | Containing BPA-based Epoxy | Containing PVC Copolymer | Containing Polyester Resin | Containing Acrylic Resin | Containing Oleoresin |
| --- | --- | --- | --- | --- | --- | --- |
| Dog | 21 | 17 (81%) | 9 (43%) | 4 (19%) | 0 (0%) | 1 (5%) |
| Cat or Kitten | 39 | 7 (18%) | 37 (95%) | 3 (8%) | 1 (3%) | 0 (0%) |
| Total | 60 | 24 (40%) | 46 (77%) | 7 (12%) | 1 (2%) | 1 (2%) |
Download Full Results Tables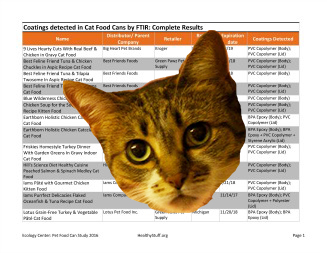 Download Cat Food Results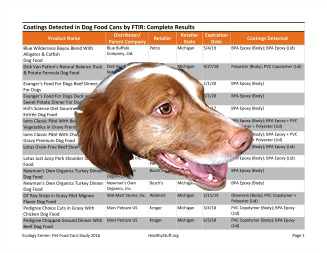 Of 21 dog food cans tested (either body or lid):
Seventeen (81%) contained BPA-based epoxy resin,

Nine (43%) contained a PVC copolymer,

All cans containing a polyester, acrylic, or oleoresin

also contained PVC or BPA-based epoxy.
Of 39 cat food cans tested (either body or lid):
Seven (18%) contained BPA-based epoxy resin,

Thirty-seven (95%) contained a PVC copolymer,

All cans containing a polyester or acrylic

also contained PVC or BPA-based epoxy.
The finding that dog food cans primarily contained BPA-based epoxy (81%) and cat food cans primarily contained PVC copolymer (95%) may be due to a difference in the can shapes. The shorter, smaller cans typical of cat food are known as drawn-and-redrawn two-piece cans because the body is punched down from a piece of metal and a lid is attached on top in the manufacturing process. These two-piece cans require a coating that can withstand the fabrication process, and BPA-based epoxy, by itself, cannot (LaKind 2013). PVC copolymer, however, can be used in two-piece cans, and that is what we see in the large majority of cat food cans.
The taller cans typical of dog food are three-piece cans: a body with two lids attached, one at the top and one at the bottom. The coating on a three-piece can is subject to less stress during fabrication, and BPA-based epoxy can be used. This may be why we see epoxy in most dog food cans.
Many cans contained more than one coating. In some cases, body and lid had different coatings, and in some cases, two or three coating types were either blended or layered. In several of the PVC-based coatings, BPA epoxy was also detected. This is expected, as PVC copolymer is often coated over a BPA epoxy layer to improve adhesion (LaKind 2013).
Compared to our study on canned food for human consumption, "Buyer Beware: Toxic BPA and regrettable substitutions found in the linings of canned food", we found several differences.
Dog food cans had a higher frequency of BPA-based coatings (81% compared to 67% of human food cans) as well as a higher frequency of PVC-based coatings (43% compared to 25% of human food cans).

Cat food cans had a much lower frequency of BPA-based coatings and a higher frequency of PVC-based coatings compared to human food. This is partly due to the predominance of two-piece cans for cat food as opposed to three-piece cans for human food.

Both cat and dog food cans were much less likely than human food cans to contain polyester resin, acrylic resin, or oleoresin, and those alternative coatings were detected only in combination with PVC or BPA-based epoxy.
It appears likely that manufacturers of pet food have not sought alternatives to BPA-based and PVC-based coatings to the extent that manufacturers of human food have.  For example, some brands of human food (e.g. Annie's Homegrown and Eden Organics) have been using polyester resin or oleoresin as probable safer alternatives to BPA-based epoxy, but none of the pet food cans in our study contained stand-alone oleoresin or polyester resin coatings.
This study reveals the need for alternative, safer packaging materials for pet food and provides recommendations for pet food manufacturers and pet owners.
"These findings are quite concerning and similar to our own studies that examined two brands of canned dog food, including one that was promoted to be BPA-free but actually contained equivalent amounts of this chemical as one where no such claims have been made," said Cheryl S. Rosenfeld, DVM, PhD, associate professor at the Bond Life Sciences Center, University of Missouri.
"We also found that when dogs consumed canned dog food containing BPA for two weeks, it was associated with metabolic and gut microbiome alterations. Thus, these recent findings from the Ecology Center raise further concern that potentially all commercial brands of dog and cat food may contain BPA that can lead to potential health effects in our companion animals."
References
Alabi, et al, 2014. Quick and simple sample treatment for multiresidue analysis of bisphenols, bisphenol diglycidyl ethers and their derivatives in canned food prior to liquid chromatography and fluorescence detection. J Chromatogr A. 1336, 23-33.
Hammarling, et al, 2000. Migration of bisphenol-A diglycidyl ether (BADGE) and its reaction products in canned foods.  Food Addit Contam. 17(11), 937-43.
​​​​​​Hyoung, 2007. Developmental toxicity by exposure to bisphenol A diglycidyl ether during gestation and lactation period in Sprague-Dawley male rats. J Prev Med Public Health 40(2), 155-61.
Koestel, et al, 2017. Bisphenol A (BPA) in the serum of pet dogs following short-term consumption of canned dog food and potential health consequences of exposure to BPA. Science of the Total Environment 579, 1804-1814.
LaKind, 2013. Can coatings for foods and beverages: issues and options. International Journal of Technology, Policy, and Management 13(1), 80-95.
Rochester, 2013.  Bisphenol A and human health: a review of the literature.  Reproductive Toxicology, 42, 132-55.
Seachrist, et al, 2015. A review of the carcinogenic potential of bisphenol A.  Reproductive Toxicology 59, 167-82.